Earlier this year, we saw pictures of a four-slot Founders Edition for a potential GeForce RTX 4090 TI or TITAN-class Ada GPU that featured an interesting vertical orientation of the I/O ports. This indicated that the internal hardware would be configured vertically and positioned in a certain way to account for the extra cooling required.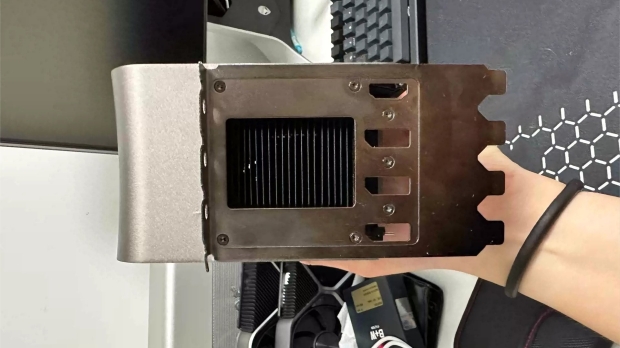 Reports at the time indicated that dual 12VHPWR 16-pin connectors would be required to deliver over 800W of power. On top of that, it looks like this GeForce RTX 4090 TI or TITAN-class Ada GPU would also ship with 48GB of VRAM on a 384-bit memory bus.
This week comes new images courtesy of @ExperteVallah over on Twitter showcasing the cooler the rumored "Titan Ada" graphics card. Sitting next to a Founders Edition model from the GeForce RTX 30 Series makes it look absolutely huge, thanks to the quad-slot thickness. The images also reinforce the vertical configuration for the I/O ports, though these images are for a prototype without internal hardware.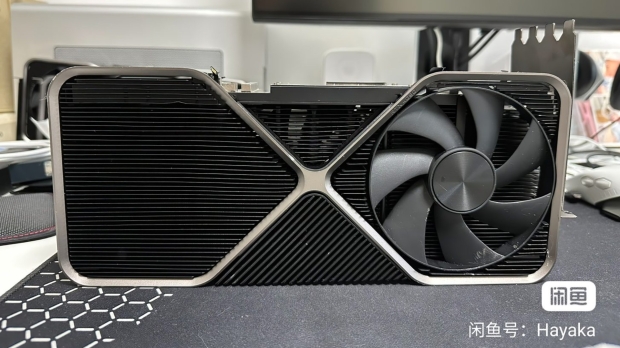 Interestingly, the images only show a single 12VHPWR 16-pin connector, pointing to a peak power limit of 600W instead of the 800+ that has been previously reported. Also, with GeForce RTX branding and the "RTX 4090" logo, this could very well be a prototype cooler for the GeForce RTX 4090 Founders Edition that launched last year - something NVIDIA was testing before locking down the final design and the 450W power limit.
Enough evidence points to NVIDIA testing and planning to release a GeForce RTX 4090 TI or TITAN-class Ada GPU. Still, based on the sheer unmatched power of the baseline GeForce RTX 4090 (it's the most powerful GPU available today by a huge margin), there's word that NVIDIA has shelved its plans for a GeForce RTX 4090 Ti - or has canceled them completely.
If we see a fully unlocked AD102 GPU with 18,176 CUDA Cores, an 11% increase over the RTX 4090, there's a good chance it'll be a four-slot monster of a card.