Based on assessment of key business figures, testimony from Xbox CEO Phil Spencer, and a recently-published bombshell email from Sony Interactive Entertainment CEO Jim Ryan, Sony is likely to sign a Call of Duty deal with Microsoft to ensure the $31 billion franchise says on PlayStation.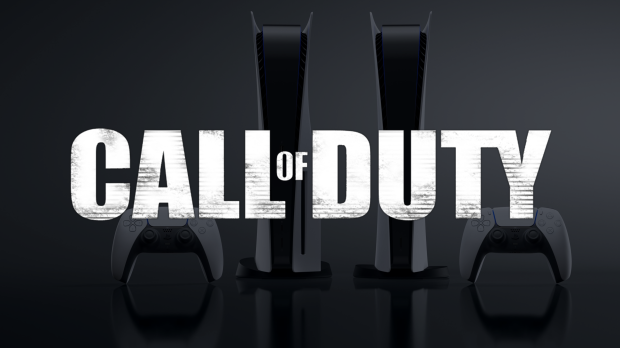 Microsoft has said it wants to keep Call of Duty on PlayStation, and Xbox Gaming CEO Phil Spencer's recent testimony at a court hearing over the Activision merger adds more weight to this assertion.
The evidentiary hearing has been a boon for information on the Xbox business and the complex, highly-secretive inner workings of the video games industry. At the trial, Spencer disclosed key internal acronyms like CSA (Consumer Solutions Area), GLT (Gaming Leadership Team), and PLA (Publisher's Licensing Agreement). Listeners also learned fundamentals on how the Activision merger proposal was put together.
According to Spencer's testimony, he and his team formulated a "deal model" for the acquisition of Activision Blizzard King. This model is part of a brief that is presented to Microsoft's top brass; to get an acquisition cleared and approved, Phil Spencer and his team have to present a model to top leadership like Microsoft's Chief Financial Officer Amy Hood, Chief Executive Officer Satya Nadella, and the board of directors.
Included in this deal model are things like strategic and financial rationale with a strategic and financial analyses, a financial/economic model, asset value, and other various important information. The financial model likely shows, among other things, the realities of buying Activision--cost structure, revenues, etc.
We don't know exactly what information the financial model entails (or the deal model, for that matter), but based on Spencer's testimony, this particular model at least includes a summary of how Activision's business would contribute to Xbox on a post-merger basis.
Below we have a quick transcription of one of the exchanges between FTC lawyer James Weingarten and Phil Spencer in relation to making Activision games exclusive to Xbox. In the exchange, Spencer mentions that the current financial model is based on Activision games staying on PlayStation--including Call of Duty.
Q You've had conversations at Microsoft about skipping PlayStation with Activision titles, yes or no?

It seems like a normal conversation that we would have.

Q You have had those conversations?

I don't remember specific conversations, but we would have had conversations about that, yes. I remember the result we came up with, which was the financial model that includes Activision games continuing to ship on PlayStation.
This model was approved by Microsoft's top management and the offer was made. The acquisition offer was presented to Activision's board of directors, who approved it, and the overwhelming majority of Activision's shareholders also approved the merger offer.
Elsewhere in the testimony, Phil Spencer discusses the process to Microsoft counsel Beth Wilkinson:
"We build a financial analysis to help us give a range of what we could afford to pay for a company and still feel like we have the right returns," Spencer said.
The gaming CEO continues, saying that he is beholden to keeping his commitments based on the proposed deal model:
"The commitments that I make to the board around financial return of any acquisition, especially one of nearly $70 billion, I look at it as critical to my job function to deliver on the results that I commit to the board and the company, and manage an effective and growing business."
One of these commitments is to keep Call of Duty on PlayStation.
"My goal is that we'd ship Call of Duty on all future versions of PlayStation. I can't dictate if there are future versions of PlayStation," Spencer told FTC counsel.
In a line of questioning with the FTC's James Weingarten, Spencer clarifies what strategic and financial rationale are, and how they are different from one another:
Q The economic value is what is the near-term financial return to have to be to justify the valuation? Economic value is about what you pay for an asset, but it's not the same of the strategic value?

Strategy rationale and the financial rationale are two different discussions

Q It may be the case the asset has such strategic value it may outweigh economic value right?

We would be encouraged to find that strategic value in an economic model that we would be able to present. How does any opportunity to relate to the strategy that we're on, then financial analysis is the financial implication of us acquiring an asset. There isn't a value on the strategic, it's a strategic analysis, it's more of a commentary on how this asset fits into the strategy that we have, there is no numeric value assigned. There is no value-to-value comparison between the two documents.
Apart from the internal commitments and the deal-making process, Spencer goes on to say that the negative financial impact to removing Call of Duty from PlayStation is too high. Taking Call of Duty as an exclusive to Xbox would fundamentally disrupt Activision's valuation.
"The financials...the size of Call of Duty, the role it plays in the valuation of buying Activision, [it would] make it financial impossible for us to recover...for us losing Call of Duty on its largest platform. There's significantly more players on PlayStation than Xbox, as we know. There's a lot more PlayStations on Xboxes, and the game is very successful on both," Spencer said.
As far as Sony's side of the negotiations, Spencer indicates that Sony "has to allow" Microsoft to ship the game on their platform. It's not up to Microsoft on whether or not Call of Duty actually ends up on PlayStation. Sony has to agree to a deal.
The PLA, or Publisher Licensing Agreement, for Activision's Call of Duty franchise will end in 2024. If Microsoft acquires Activision before that date, then Microsoft will have to negotiate a new PLA with Sony in order to ship Call of Duty on the platform.
Typically, Microsoft has a cordial and beneficial relationship with Sony when it comes to shipping its games on PlayStation. In his testimony, Spencer brings up Minecraft, one of the most popular video games ever made, as a game that that has fostered a strong business partnership between Xbox and PlayStation.
"We have a number of games on the PlayStation Store, I think it's over 50, some of those we acquired, some of those we launched. We don't have a deal on individual deal, a publisher agreement. It's a very cordial relationship. They support us well when we ship games," Spencer said.
On a normal basis, publishers and platform-holders don't sign PLAs or other agreements for an individual game. Call of Duty is different. Microsoft has made a franchise-specific deal that commits to shipping Call of Duty with full feature parity and day-and-date on PlayStation for 10 years.
According to Spencer, "Sony is asking significant commitments" in relation to the Call of Duty deal. No specifics were revealed as the deal is likely under seal and made confidential by the courts, but these commitments may include a longer guaranteed release cadence beyond 10 years, as well as a specific revenue split.
Activision was able to use its superior market position as the publisher of one of the best-selling franchises of all time to negotiate a very favorable revenue split with Microsoft. During the case, the FTC may have accidentally revealed an 80-20 split in Activision's favor.
Activision had threatened to not release Call of Duty on Gen9 Xbox Series X/S consoles if Microsoft did not agree to its new revised revenue split terms in an updated PLA agreement.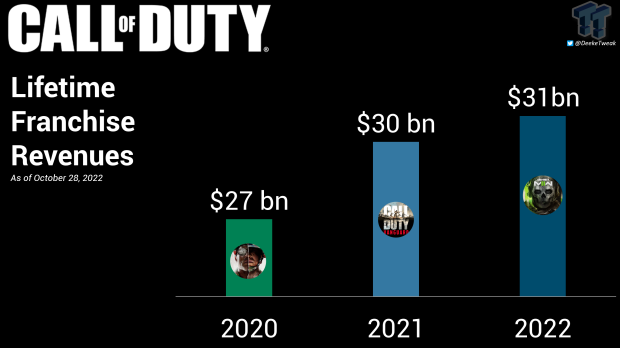 Call of Duty, and Activision games, are important for PlayStation. Sony has spent lots of money securing multi-year licensing deals that offer exclusive content to the PlayStation platform, and has used the third-party franchise as a means to fuel its virtuous cycle business model. As Call of Duty has grown, so too has PlayStation, and the two have a strong symbiotic bond in the console market.
It's clear that Sony has direct financial incentive to keep these games on its platform. Evidence shows that despite public opposition and filed court documents, Sony Interactive Entertainment CEO Jim Ryan does not believe the merger poses an exclusivity threat to the Sony platform.
In Day 1 of the evidentiary hearing, Microsoft lawyer Beth Wilkinson opened with a bombshell email between Sony Interactive Entertainment CEO Jim Ryan and former PlayStation boss Chris Deering. In the email, Ryan said that he didn't believe the Microsoft-Activision merger was "an exclusivity play," and that he believed Call of Duty would remain on PlayStation "for years to come":
"It is not an exclusivity play at all. They're thinking bigger than that, they have the cash the make these moves. I've spent a fair amount of time of Phil and Bobby and I'm pretty sure we'll continue to see Call of Duty on PlayStation for years to come. "We have some good stuff cooking. I'm not complacent, I'd rather that this didn't happen, but we'll be okay, we'll be more than okay."
Sony's opposition in this case has been centered around losing Call of Duty, how important the franchise is for the company, and Microsoft having the ability and potential intent to withhold Activision-Blizzard games from PlayStation.
After all, Call of Duty is the best-selling franchise in PlayStation history, and has been the top-selling game on PlayStation for 9 out of the last 10 years. The franchise has made over $31 billion in revenues, sold over 425 million copies, and 2022's Modern Warfare 2 broke records with the largest-ever Call of Duty launch on PlayStation.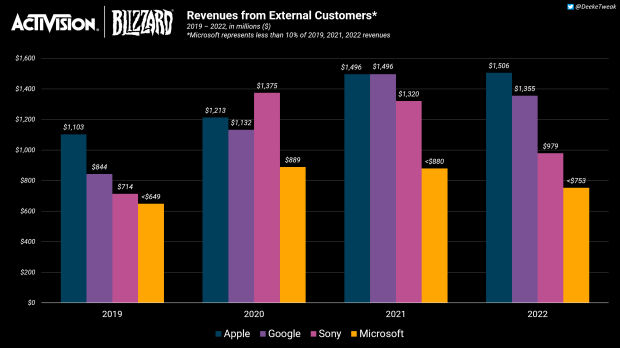 A quick look at Activision-Blizzard's financials also show how important PlayStation is for the publisher's games. While we don't have Call of Duty's exact numbers, we can see how much money Activision games generate on Sony's platform.
Given these circumstances--Microsoft's deal model with the Activision acquisition including Call of Duty's perpetual release on PlayStation, how important PlayStation is for Activision games and conversely, how important Activision games are for PlayStation, it is likely that Microsoft and Sony will sign a mutually-beneficial deal to continue offering Call of Duty on PlayStation.
Otherwise, Microsoft will have to make adjustments to its internal model and Sony will lose out on hundreds of millions of dollars in revenue every year alongside massive million-player engagement across its PlayStation ecosystem. Both of these things are extremely important for Sony Interactive Entertainment and it's very likely that the company will work closely with Microsoft to iron out a deal.
Getting Sony to sign the deal may be challenging, however given the stakes involved, it is highly likely that Microsoft and Sony will negotiate some sort of deal. It behooves Microsoft on a business, financial, and reputational level to do what it can to secure Call of Duty for PlayStation platforms, and Sony has a direct incentive to secure Call of Duty to help foster revenues, engagement, and long-term spending across live services and franchise full game sales in its ecosystem.