Xbox gaming CEO Phil Spencer outlines the stark realities of Microsoft's games business, confirming that the Xbox games division is a seperate operating unit with its own budgets, profit and loss accounts, and expectations.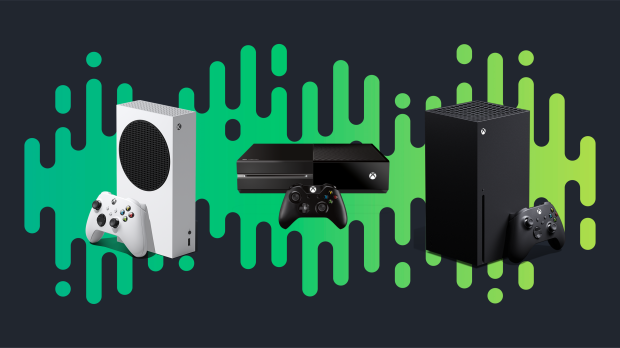 It's a common misconception that because Xbox is part of Microsoft, a tech giant with a $2.45 trillion market capitalization, that the Xbox games division has an unlimited budget and can constantly lose money. This isn't the case. The reality is that the Xbox business is under constant pressure to deliver profits and growth.
In day 2 of the federal FTC v Microsoft case's evidentiary hearing, Xbox gaming CEO Phil Spencer offers an eye-opening look at Microsoft's gaming business. Typically, Microsoft does not divulge very much information on Xbox outside of a few earnings metrics--hardware, content and services revenue, and if we're lucky, an update on Game Pass subscribers. Spencer's testimony in the hearing sheds light on the stressors in running the Xbox business, and what ultimately led up to the $68.7 billion bid for Activision-Blizzard.
According to Phil Spencer, Xbox is effectively a standalone business within Microsoft.
"Gaming runs as a standalone profit and loss business inside of Microsoft, We have a commitment to the company and the board to run a profitable business. We are effectively a standalone business," Spencer told Microsoft lawyer Beth Wilkinson in his testimony.
To assess the current state of the Xbox business, Phil Spencer meets with Microsoft Chief Financial Officer Amy Hood on a weekly basis to discuss metrics and other key performance indicators.
According to Spencer, Amy Hood is the "most rigorous" reviewer of Xbox's business and finances. She checks the books monthly.
Q What kind of targets do you set?

We set annual targets and our quarterly earnings that we'd have...most of our effort goes into locking the expectations in.
Phil Spencer's witness examination and testimony reveals that Xbox's GLT (Gaming Leadership Team) creates a number of reports for CFO Amy Hood and the board of directors to look at. These include weekly reports, monthly analyses, and annual slide decks to discuss how the Xbox business performed, where it is now, and where it could be in the future. These reports examine various parts of the Xbox business including console market share--Spencer says he receives a weekly report on console "run rates," or overall sales--as well as Game Pass State of the Union initiatives and growth targets.
Profit is a must for the Xbox business. In the past, Spencer has gone on record saying that Xbox gaming is profitable. Both the overall Xbox game business is able to turn a profit, and Spencer has said on two separate occasions that the Xbox Game Pass subscription model is also profitable.
"We have both gross margin targets, and accountability margin targets/profit. We have to grow the business at the topline, the revenue, and the profitability of the business," Spencer said.
"If we're not able to grow enough revenue to cover cost increases, we have to find other ways to cut costs to meet accountability margins, you can see job eliminations, cutting back on spend on other things in the market, because the profitability of our business is non-negotiable at the company."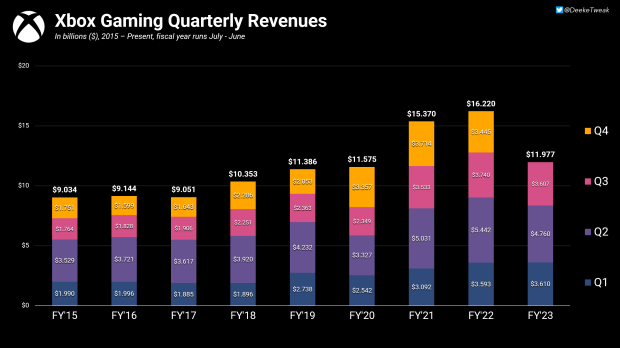 Profits are a must, so losses aren't acceptable. While Xbox is in third place in terms of overall console market share, our analysis indicates that Xbox generated more revenue than Nintendo in both calendar years 2021 and 2022.
Spencer says that he can't just lose money for Microsoft--Xbox is a separate operating unit and the games segment can't just rely on Microsoft's coffers to help offset losses.
"There's no part of our business where I get to lose money over time. The overall part of our business of gaming has to be a profitable growing part of our business. That's why mobile is critical for growth in our business."
Spencer goes on to say he is given latitude no how and when Xbox spends money, including budgets and marketing for the games division.
"Amy has a strong point of view, she gives her support to [Xbox gaming Chief Financial Officer] Tim Stuart and I."
The $68.7 billion offer to purchase Activision was made to relieve some of this pressure to constantly deliver profits in a market where Xbox is already behind.
Microsoft's current internal metrics show that console gaming is slowing, and data analysts project that mobile gaming will continue to rise. The drive to capture some of the mobile market stretches all the way back in 2019, when Microsoft launched its Xbox Cloud Gaming (aka Project xCloud) imitative. This tech was specifically designed to be a lower-cost solution to reach the mobile market.
The idea was to use existing Xbox hardware and cloud network technology to deliver an existing lineup of Xbox console games to mobile phones. Project xCloud streams games made for Xbox consoles directly to mobile devices.
The effort hasn't been a success, and Spencer notes that Xbox Cloud Gaming has not "gained traction" in the mobile market.
Without the expertise to develop its own mobile-native games, except for its mobile release of Minecraft, Microsoft set its sights on acquiring a mobile publisher to fill in its missing blank.
Microsoft is already behind on console and PC. It didn't just need a presence on mobile--it wanted a juggernaut to help offset its lower margins in console and PC.
"Our relevance was going to shrink. Mobile is the almost sole source of video game growth over the years. So we started to look at acquisition as a strategy," Spencer said during the hearing.
Microsoft had originally floated the idea of acquiring mobile giant Zynga, but ultimately massed on the deal because Zynga wasn't big enough. Take-Two Interactive ended up purchasing Zynga for $12.7 billion.
Enter Activision-Blizzard, a company that serves all three gaming markets--console, PC, and mobile. Microsoft quickly found that Activision-Blizzard was actually the largest independent mobile games publisher outside of the Chinese market.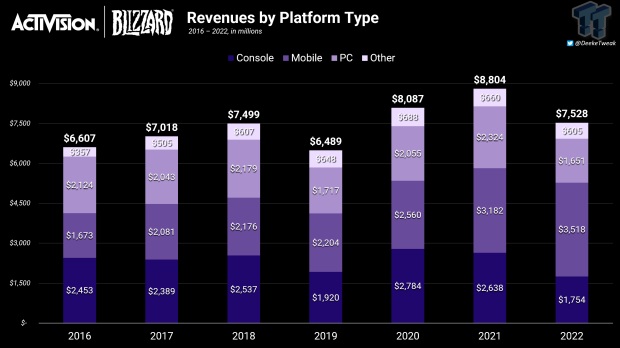 On top of King's thunderous multi-billion revenues, all of Activision's segments now deliver mobile revenues in excess of hundreds of billions of dollars. 2020's release of Call of Duty Mobile has proven to be mega successful, with the mobile version breaking $1.5 billion as of 2021, and, as Phil Spencer noted in his testimony, COD Mobile represents a "huge" amount of total Call of Duty franchise revenues.
2022's release of Diablo Immortal also propelled Blizzard into gaming's largest revenue stream.
These mobile earnings were icing on the cake that is Activision-Blizzard's operational performance--the publisher is so successful that it is the top-earning, non-platform-holding independent video games publisher on the planet outside of Tencent. On top of 8x separate franchises that have made over $1 billion each on consoles and PC, Activision Blizzard is now a strong contender in the mobile space.
Spencer recalls that Activision talks had started in December 2021, shortly after Activision-Blizzard's stock took a disastrous dive as a result of significant allegations.
Once Spencer and his team identified Activision as a target, the Xbox GLT worked with Microsoft's CFO Amy Hood to prepare a proposal to the board.
As per a line of questioning between Phil Spencer and MSFT lawyer Beth Wilkinson, Spencer said:
"Activision is the largest publisher of mobile content outside of China. After we went through our Zynga work and analysis, we spent time with Amy Hood to look at mobile opportunities that were in the market, Activision was the biggest publisher of mobile content and it's a partner we know well so we have comfort and experience with the teams.

"We made several presentations to the board when seeking acquisition talks and approval."
Xbox's GLT worked alongside Amy Hood to prepare a deal model that assigned an asset value to Activision Blizzard, alongside strategic and financial models around the merger and how it would affect the Xbox business.
Ultimately, the board approved the proposal, and an offer was made to buy out 100% of Activision-Blizzard stock for $95 per share. The announcement was made in January 2022, when Activision stock was in the mid-$70 range. Activision shareholders voted on the proposal with the vast majority of stock holders approving the merger.