Sony executive management is confident the PlayStation 5 will exceed at least 108 million units in its lifetime.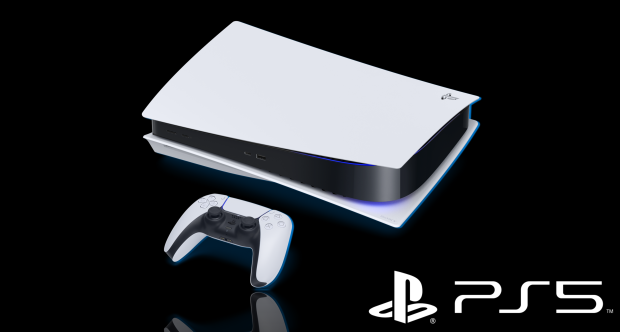 In a recent games business briefing, Sony Interactive Entertainment CEO Jim Ryan said that he strongly believes that the PS5 family of hardware will break 108 million sales worldwide across its life cycle. This would put the PS5 just below the PS4's 117.2 million shipments, but above the PS1's 102.4 million lifetime shipments.
"Yes, I would anticipate that over the life of the PlayStation 5, that we should be able to exceed a figure of 70 million on top of the 38 million [we have achieved]," Ryan said in the Q&A section of the meeting's webcast.
"The reason I say that is the 70 million I think is the existing PlayStation 4 user base, and while we would hope to convert a large number of those people, we will definitely target and and definitely be successful in bringing large numbers of gamers who did not own a PlayStation 4, and in many instances, who have never owned a PlayStation at all.
"I am very optimistic over the life of this platform that we will exceed the number that you mentioned."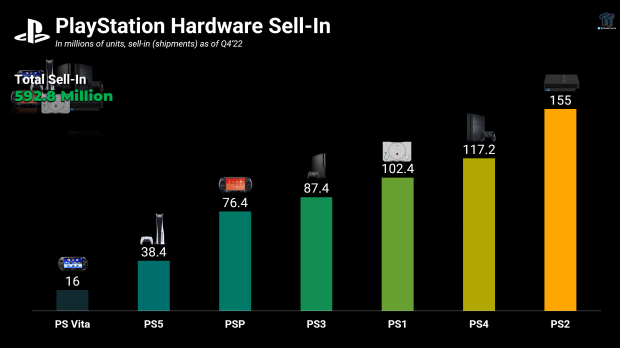 Elsewhere in the presentation, Sony confirmed that management expects the PS5 to overtake the PS4 all in all relevant KPIs, including launch-aligned sell-through. PS5 console sell-through is currently at 36 million compared to its shipments of 38.4 million, which essentially means that Sony has shipped 2.4 million more PS5s than it has sold. The company expects demand to remain strong for quite some time.
The games giant has plans to ship a whopping 30.5 million units in Fiscal Year 2023, which would put the PS5 at over 3.2 million units ahead of the PS4 in launch-aligned performance.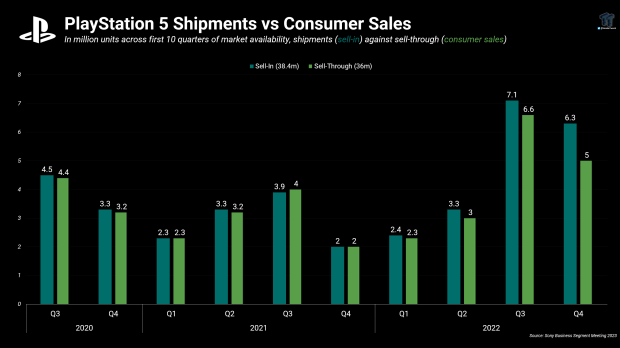 In regards to our comment about the PS5 family of devices, remember that the PS5 ecosystem technically includes two systems--the PS5 disc version and the disc-less PS5 digital edition--and there are reports of the disc version being phased out and all future PlayStation 5 models being digital editions. Gamers would then be able to purchase the disc drive separately and attach the module to the base unit.
There's also reports that Sony is readying a PlayStation 5 Pro model to potentially release in 2024, however nothing has been confirmed.