Popular belief is that Sony led to the creation to a market designation that removed Nintendo from the Big 3. Is that the case? We investigate further in an attempt to discover answers.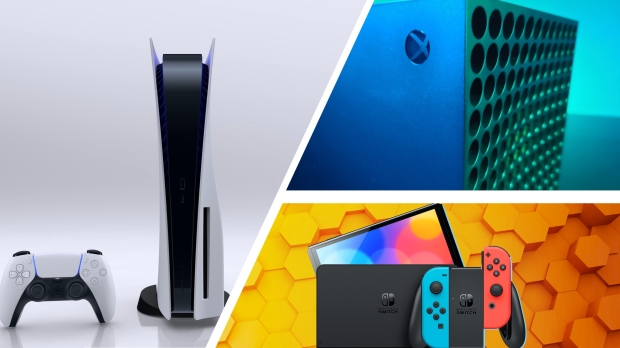 The Federal Trade Commission turned heads when it created the High-Performance Console Market in an effort to narrow its focus to PlayStation vs Xbox in the Microsoft-Activision merger antitrust case. This is a common practice for regulators, who often recognize what are called "relevant markets," or areas of competition that could be affected by a merger. In so doing, the FTC effectively removes Nintendo, one of the most powerful forces in gaming history, from the equation altogether.
The FTC has determined three areas where the Microsoft-Activision merger could cause anti-competitive effects: Consoles, multi-game subscriptions, and cloud gaming subscription services. "The Proposed Acquisition is reasonably likely to substantially lessen competition or tend to create a monopoly in the Relevant Markets for High-Performance Consoles, MultiGame Content Library Subscription Services, and Cloud Gaming Subscription Services," the FTC wrote in its December-filed Complaint.
To determine anti-competitive effects, the FTC is able to narrow specific portions of a market to help isolate and illustrate these effects. That's the case with the High-Performance Console market designation.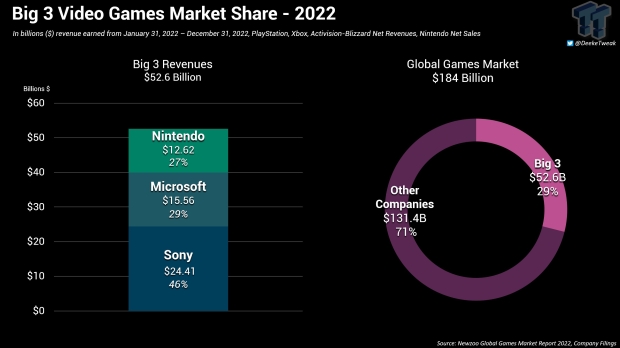 On a technical level, this isolation makes sense. After all, through our investigations we've concluded that PlayStation and Xbox compete more closely with one another than they do with Nintendo. However, this designation has proven to be divise and confusing, and even more quizzical is Sony's involvement in the market definition.
Read Also: Here's why regulators exclude Nintendo and focus on PlayStation vs Xbox
After all, Sony Interactive Entertainment is the largest opposer to the merger, and has alleged that the merger could cause harm to its PlayStation business should Microsoft withhold Call of Duty in any capacity--whether it be full game sales, or access via subscription and cloud services. Sony's allegations have been largely redacted and the most salient of information--that is the most argumentative against the merger--seems to surround the 10-year deals that Microsoft has offered to competitors like Nintendo and even NVIDIA.
It's largely believed that the FTC's market designation helps Sony because it removes Nintendo from the equation. After all, Nintendo has managed to stay incredibly competitive without the inclusion of Call of Duty. Some would say this invalidates an entire theory of harm.
However, that's precisely a big reason why Nintendo is being removed from the picture--because it does not have Call of Duty.
The FTC can't determine anti-competitive effects on a platform that does not include the content in which is believed to potentially cause said anti-competitive effect. In short, if Nintendo never had Call of Duty, then it can't be harmed if it is withheld access to Call of Duty.
The converse is what most people wonder about, though: If Nintendo is able to be successful without Call of Duty, then why can't Sony do the same?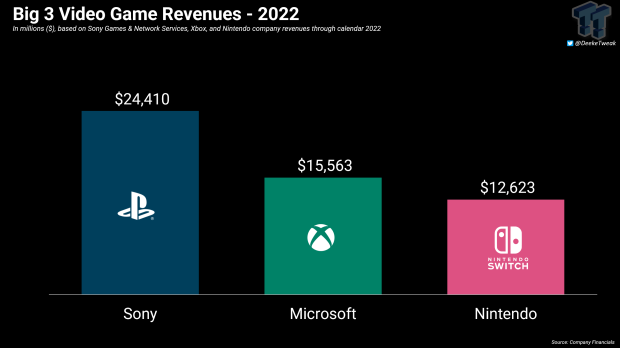 There's many other reasons that Nintendo has been isolated, including the disparities and differences between the Switch when compared to the very-similar PlayStation and Xbox consoles, as well as significant operational differences in multi-game subscriptions, cloud gaming, and offered first-party games libraries.
So...who came up with the concept of removing Nintendo first? Was it regulators like the FTC, or was it Sony?
The first real instance I could find where Sony discussed the operational differences of Nintendo vs PlayStation is in filing from Brazilian regulator CADE: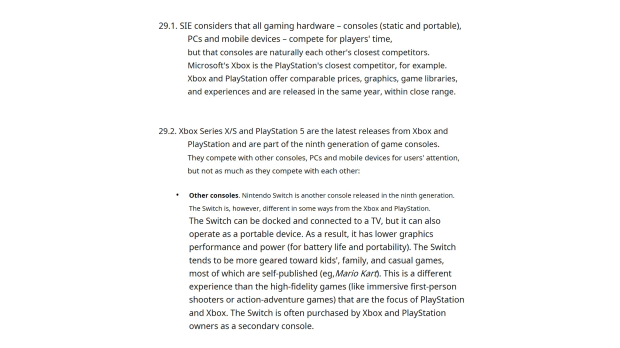 Notice how Sony does not argue that Nintendo is in its own separate segment of the console market. Sony outlines operational differences that can be independently derived with minimal knowledge of the Big 3's gaming business, either on a consumer level, or a more advanced level based on business acumen.
These are similar determinations that could be arrived at independently, either by regulators with in-depth knowledge of the video games market, journalists who scan company financials, or everyday consumers who buy gaming products. There's an inherent knowledge and understanding of the differences between PlayStation, Nintendo, and Xbox.
Furthermore, we have to really think about how the FTC's High-Performance Console Relevant Market would affect Sony's own arguments.
As defined in the FTC's administrative complaint, the agency seems to isolate its High-Performance Console Relevant Market to Gen 9 consoles, which includes the PlayStation 5 and Xbox Series X/S.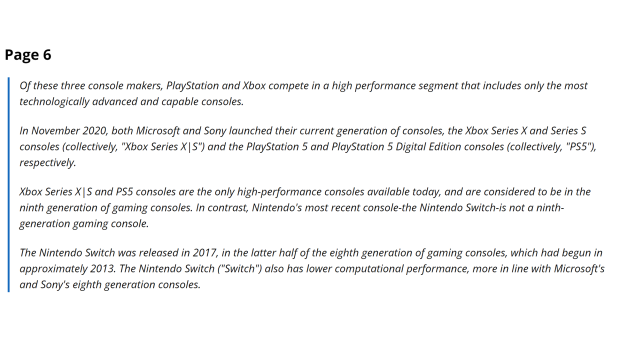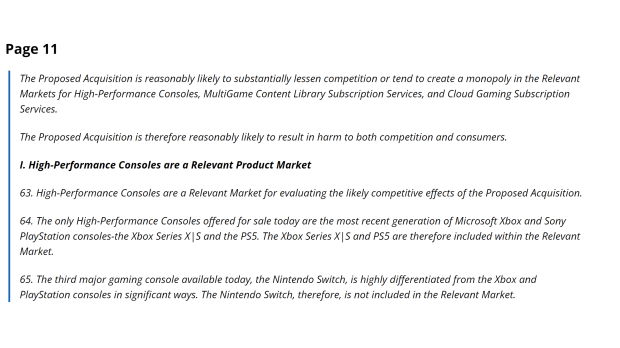 Read Also: CMA likely made determinations independently from FTC market designation
We have to wonder: Why would Sony instigate this market definition if it removes the PlayStation 4? After all, Sony made most of its money from Call of Duty on the PlayStation 4.
Now this isn't to say the FTC has ignored the PS4 or Xbox One generations entirely--this would be impossible. The FTC has looked through millions of documents, including in-depth earnings reports and exact revenues from Call of Duty on PlayStation and Xbox. The High-Performance Console Relevant Market is just the areas in which the merger could theoretically have anti-competitive effects in, and Gen 9 is relatively new, so it's believed that the merger would affect this generation (and future generations) the most.
Read Also: FTC Chair Lina Khan: "Other jurisdictions made their decisions independently from FTC"
It's also worth mentioning that the Competition and Markets Authority (CMA) in the United Kingdom has come to similar conclusions on the Big 3, but it didn't go so far as to remove Nintendo from a narrowed console market definition. Unlike the FTC, the CMA has concluded in its competitive assessment that it is "not appropriate to further segment by console type."
In fact, the CMA removed its console gaming theory of harm altogether after determining that Microsoft had no ability or incentive to foreclose rivals by withholding access to the Call of Duty franchise.
Interestingly enough, it was both Microsoft and Activision who argued in favor of keeping Nintendo in the picture. At least that's what they publicly told the CMA.
The following are excerpts from the CMA's Provisional Findings: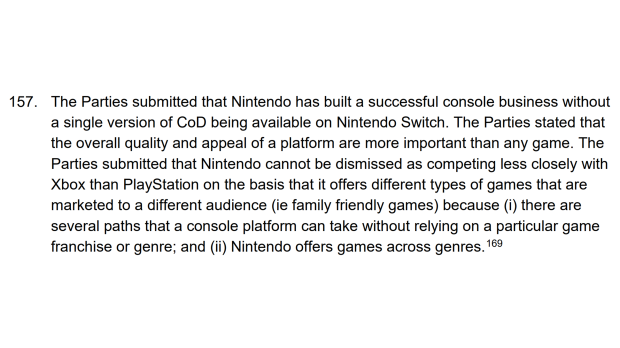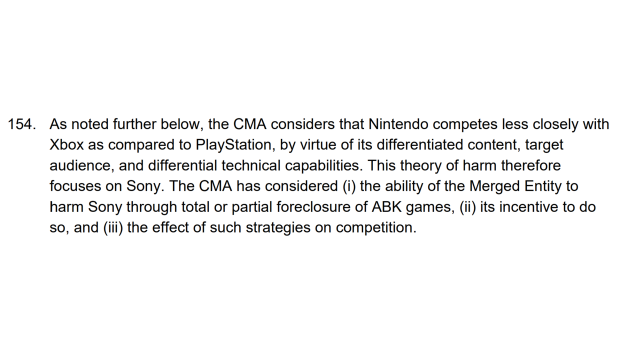 The CMA determined otherwise based on the aforementioned points--differences in console power, games libraries, content subscriptions--as well as internal documents from Microsoft that track Xbox more closely with PlayStation. The CMA says that Nintendo was frequently absent in Microsoft's competitive console gaming assessment documents.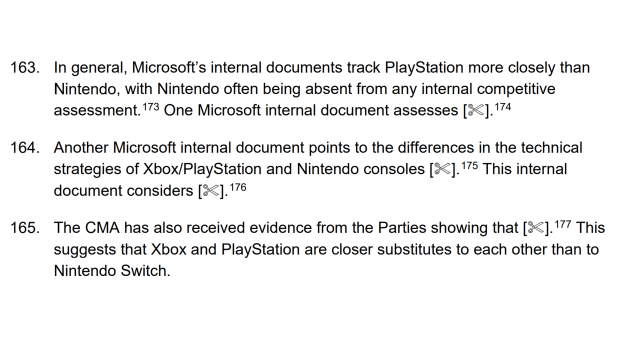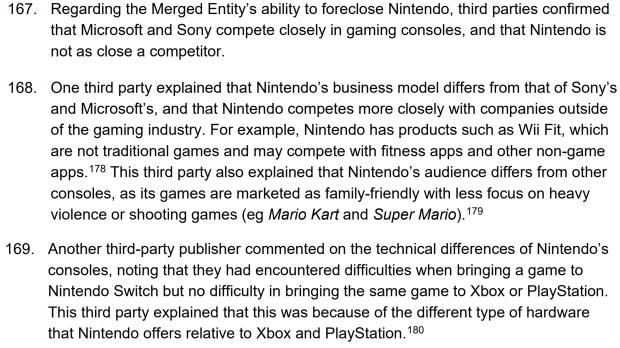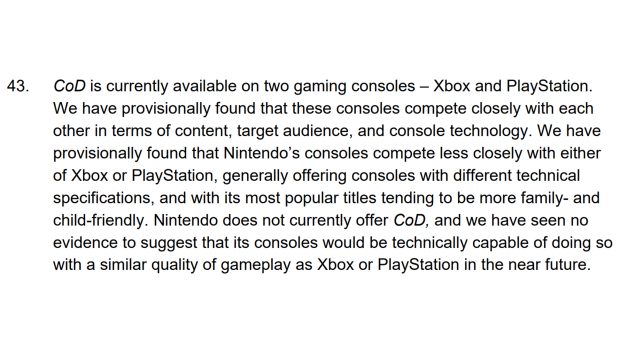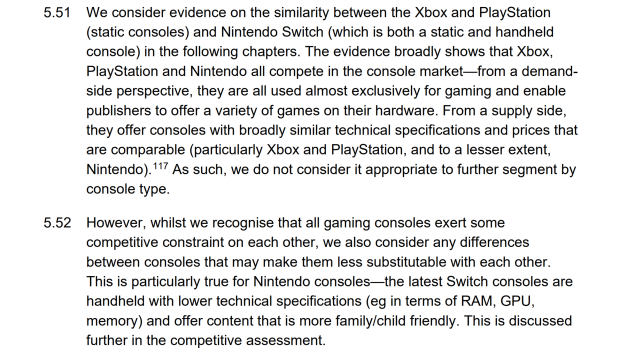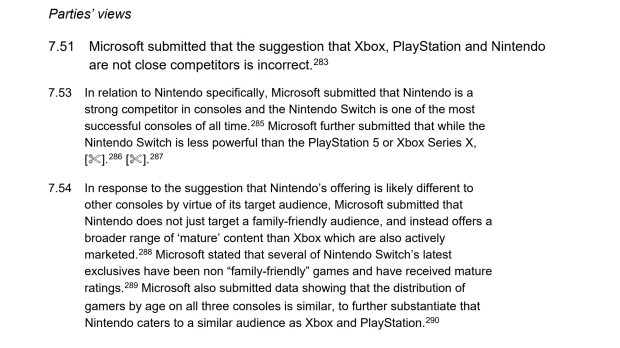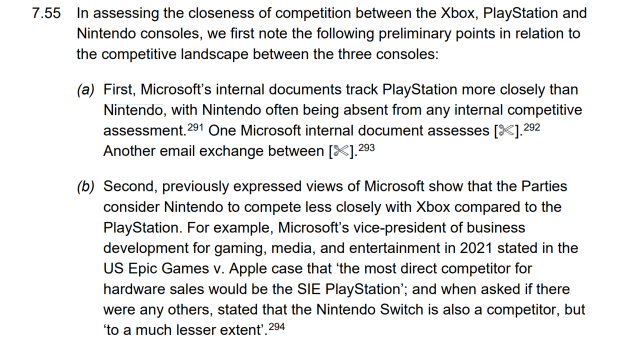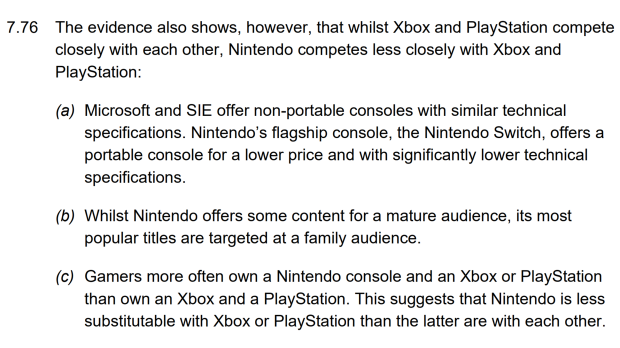 So...who actually started the designation? Since the origin for the High-Performance Console Market definition is something that can be arrived at independently, that is PlayStation and Xbox competing more closely with one another than they do with Nintendo on all relevant segments (console, subscription, and cloud), it seems logical to say that Sony is not who came up with this segmentation.
Does Sony support the segmentation? It appears so, yes. The segmentation does help Sony's case to a degree, but the high-performance console market definition also puts significant weight on Sony's platform and legal counsel who will have to persuade not just the FTC's Complaint Counsel, but the FTC Administrative Law Judge D. Michael Chappell that the proposed merger would indeed lead to anti-competitive effects in the High-Performance Console market.