Redditors with Xbox Series S consoles have reported interesting errors when playing Borderlands 3. The message states that the console has "run out of video memory" after a crash back to the console's dashboard. What makes the error message strange is the PC-like addition of "try lowering the resolution or closing other applications that are running."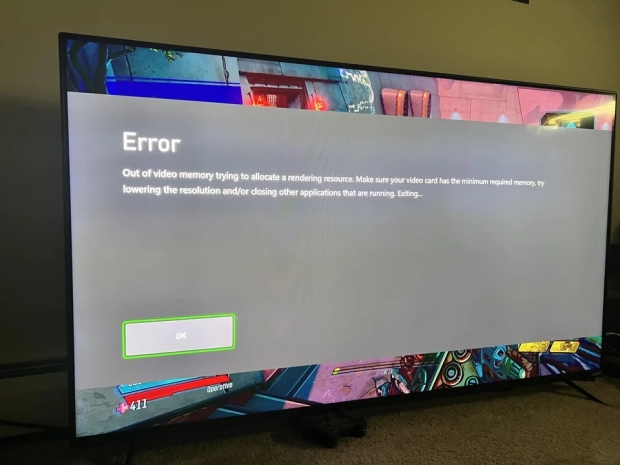 And it highlights an issue not present for gamers with the more powerful Xbox Series X console-the limited memory capacity of the Xbox Series S.
With 8GB of VRAM currently in the spotlight in PC gaming, especially when playing titles at resolutions higher than 1080p, this error report inserts the Xbox Series S console into the debate. The Xbox Series S is designed as an entry-level digital console for modern gaming, but it targets 1440p as its baseline resolution.
The Xbox Series S features a cut-down 4TF AMD RDNA 2 GPU with 20 compute units and 10GB GDDR6 memory. 8GB of that features a higher 224GB/s bandwidth comparable to a PC GPU, and this is essentially the console's VRAM capacity.
Of course, Borderlands 3 developers Gearbox Software could fix this error from occurring with a patch to the game. The cause could also be an issue with the game versus the console simply hitting its VRAM capacity.
That said, this isn't the first time memory limitations for the Xbox Series S console have made headlines. In the past, developer feedback to outlets like The Verge has outlined that developing for the console can be difficult due to the 8GB limit for high-speed memory, so much so that many games have opted for a 1080p presentation versus 1440p.
With rumors pointing to AMD and NVIDIA releasing mainstream PC GPUs with 8GB of VRAM later this month, with the Radeon RX 7600 and GeForce RTX 4060 Ti, odds are these cards will be positioned as 1080p gaming options purely due to the VRAM capacity.
Undoubtedly, there will be a parallel between these GPUs and the Xbox Series S console in the years ahead, with developers optimizing titles for PCs and consoles with lower memory specs versus high-end systems. And with the most popular GPUs on PC (according to the latest Steam Hardware Survey results) featuring 8GB or less of VRAM, it's not an issue going away anytime soon for PC gamers and console gamers.