Diablo IV looks to be the ultimate evolution of Blizzard's engagement mechanics, and players should expect a near never-ending experience.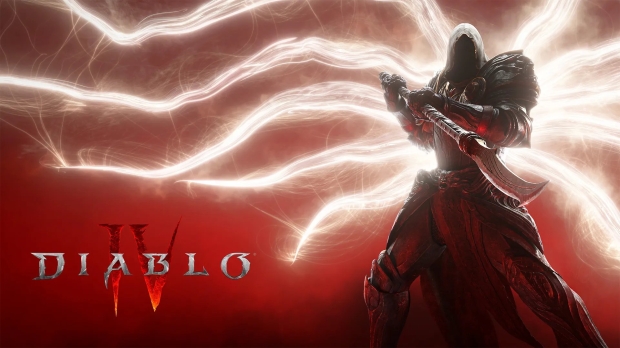 Today Blizzard released new updates on what to expect from Diablo IV's post-launch content, and also underlines the intensely-synergized game mechanics in this particular live game. The studio also detailed Diablo IV's three separate battle passes and how the seasons offer rewards that actually tangibly affect gameplay, possibly to such a degree where the participation in specific seasonal content may not be entirely optional.
Diablo IV has 3 separate battle passes: a Free Battle Pass, a Premium Battle Pass, and an Accelerated Battle Pass. That's on top of a cosmetic shop that allows players to buy skins for real money, and a $69.99 price tag for the game. Things get a little tricky from here.
Things to know off the bat:
Each season brings new Battle Passes. Season 1 starts mid-July.

Diablo IV has premium in-game currency called Platinum, which can only bought with real money, Platinum is used to buy battle passes.

Battle pass pricing is $9.99 or 1,000 Platinum for Premium Battle Pass, and $24.99 or 2,800 Platinum for the Accelerated Battle Pass

Seasons have Smoldering Ashes, a new resource that can be spent to unlock gameplay-affecting buffs/boosts like bonus EXP, gold, etc.

Smoldering Ashes can be earned from battle pass tiers, including tiers in the free battle pass

"Seasonal Journey" is basically a journal quest log that rewards you for doing what it says; e.g. kill x monsters, collect mats, beat a dungeon.

There's multiple pages, or "chapters," in this quest log. The more chapters you do, the more things you unlock.

Favor is a new type of EXP that's used to unlock new Battle Pass tiers. Favor is earned through Seasonal Journey objectives and general gameplay.

Favor can be gained from doing other things outside of the Seasonal Journey, including killing monsters, beating events, etc.
Still with us? Okay, but there's more.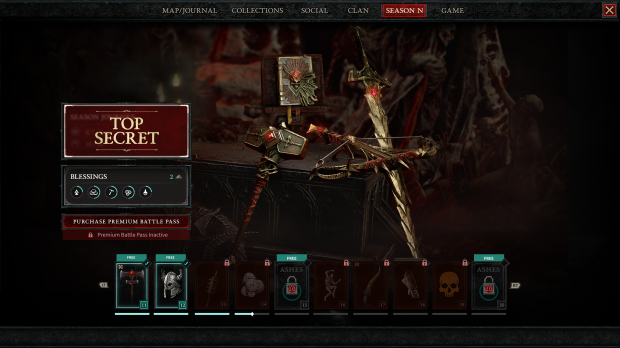 Free Battle Pass (free ninety-nine)
The free battle pass has 27 tiers. Diablo IV's free battle pass is entirely optional, but it also gives you the Smoldering Ashes material, which is used to tangibly affect gameplay. These boosts are called Seasonal Blessings.
While we don't know the exact maximum cap of the Seasonal Blessings themselves, Blizzard confirms the free battle pass contains four boosts. The way Blizzard has worded the blog post, it appears that only the free battle pass will dole out Smoldering Ashes.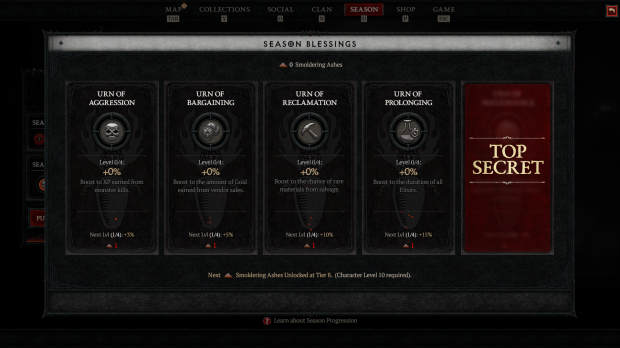 Each of the following boosts can be leveled from lvl 1-4:
XP boosts (+3% at lvl 1)

Gold drop amount boosts (+5% at lvl 1)

Better chance of rare materials from salvaging items (+10% at lvl 1)

Boost to elixir duration (+15% at level 1)
All of these things are instrumental to Diablo IV's gameplay and the battle pass will offer a trajectory to guide players to attaining these extra bonuses.
Premium Battle Pass ($9.99, 1,000 Platinum)
This battle pass has 63 tiers and only offers cosmetics. Apparently, the premium version will not have Smoldering Ashes as unlockable tier rewards to be spent on Seasonal Blessings.
"This upgraded track of the Battle Pass will not provide any in-game power, but instead unlocks tiers that provide Cosmetics unique to that Season and the Platinum currency."
Most of the inherent value comes from the free battle pass, which is offered by default at the start of every new season.
Accelerated Battle Pass ($24.99, 2,800 Platinum)
This is essentially the same as the premium battle pass, and the only real difference is that you get 20 Tier Skips. Because accelerated battle pass is built on the premium battle pass, it too is cosmetic-only.