A new image over at Videocardz.com showcases the new AMD Radeon RX 7600 graphics cards in stock at an undisclosed retail store in Asia. The Sapphire Pulse model confirms that AMD's mainstream RDNA 3 offering will feature 8GB of VRAM alongside 32 CUs (or Compute Units) with a fully unlocked Navi 33 GPU with 2048 Stream Processors.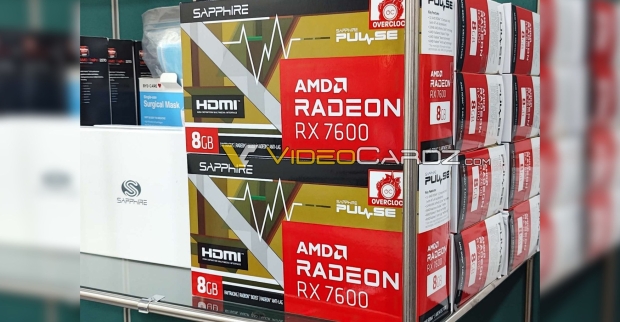 This single image confirms that AMD is prepping to launch the Radeon RX 7600 later this month, where it will no doubt be compared to NVIDIA's upcoming GeForce RTX 4060 Ti - which is also set to debut with 8GB of VRAM. The only thing missing is an image of the GPU itself, with the packaging not showcasing the physical design and cooling.
Recent rumors for NVIDIA's GeForce RTX 4060 Ti are pointing to a version coming in July that will feature 16GB of VRAM. This additional model could be a direct response from NVIDIA to the current debate surrounding VRAM capacity amongst the PC gaming community. Although that info comes from a single source, it will be interesting to see if AMD follows suit for the Radeon RX 7600.
With the AMD Radeon RX 7600, the company is launching its RDNA 3 mainstream option ahead of the mid-range Radeon RX 7700 XT and Radeon RX 7800 XT. These cards are expected to arrive in the coming months, with AMD seemingly taking a wait-and-see approach as heavily discounted high-end Radeon RX 6000 GPUs are still being sold.
Interestingly the supplier of the Radeon RX 7600 image to Videocardz.com notes that the price point for the new GPU will be around USD 249 - though additional sources for the outlet haven't corroborated this. No doubt, as a mainstream option, the Radeon RX 7600 will be priced aggressively, especially with it directly competing with the GeForce RTX 4060 Ti and the baseline GeForce RTX 4060 that is currently rumored to launch in July.