NVIDIA's RTX 4060 Ti has been spotted in some MSI gaming systems, adding fuel to the fire that this GPU is imminent - and also again showing that, as previously rumored, it'll have 8GB of VRAM.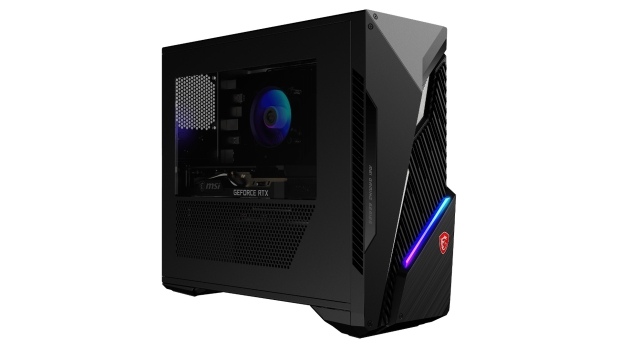 The MSI MAG Infinite S3 PCs are shown at a Dutch online retailer - presumably by mistake, of course, though the product listings are still available as we write this - and show the RTX 4060 Ti as the graphics card inside the rig. (The PCs are marked as not in stock, of course).
VideoCardz, which spotted this, observes that the Infinite S3 range is a middling offering and typically focuses on xx60 or xx70 Series GPUs from NVIDIA (indeed, new S3 models are just out with the RTX 4070 on board).
On the processor front, the PC configurations with the RTX 4060 Ti seen here pair the graphics card with Intel processors (Core i5-13400F and Core i7-13700F models).
Prices are provided, but these are for the entire PC of course, and are likely placeholders anyway, so trying to determine if this could cast any light on the MSRP of the 4060 Ti is a worthless exercise.
What this leak really does is add yet more weight to the current speculation that the RTX 4060 Ti is nearing launch time, with the rumor mill asserting that the GPU will be revealed by NVIDIA at Computex (in just over a month).
Painful memory
As for the 8GB of RAM, it's a real pain point among the would-be target audience for this graphics card. Of course, we're still at the rumor stage, so we can't take that loadout as gospel by any means, but the more this purported VRAM configuration pops up, the more likely it seems that this is really the case.
Is 8GB of video RAM enough for modern gaming? Let's put it this way, many gamers are not convinced, and even at 1080p resolution, with cutting-edge games, detail levels may have to be cut back from max, or even dropped below high, in some cases with 8GB. And that reality will only become harsher as time rolls on.
On the plus side, NVIDIA is purportedly set to be more realistic with the pricing here, potentially pitching this GPU at $399 to make it a much more affordable proposition than the RTX 4070. Although the fact that it's come to a situation where we're thinking of a $399 GPU as being relatively wallet-friendly is still a sticking point for us. It wasn't all that long ago that this was the price for a high-end model.
The other consideration for NVIDIA with the pricing relative to the 4060 Ti's spec will be AMD's inbound RX 7600 (or 7600 XT, the rumor mill can't quite decide, it seems). Whatever that mid-range offering ends up being - possibly it'll also run with 8GB of VRAM from what we're hearing - speculation has it that this GPU will turn up just before Computex, maybe beating NVIDIA to the punch.