As with new technology, the transition to DDR5 memory has been slow and gradual. But with most CPUs and motherboards supporting DDR5 in 2023, we're seeing more and more affordable DDR memory kits hit the market - with the latest coming from Lexar, aimed at gamers and content creators.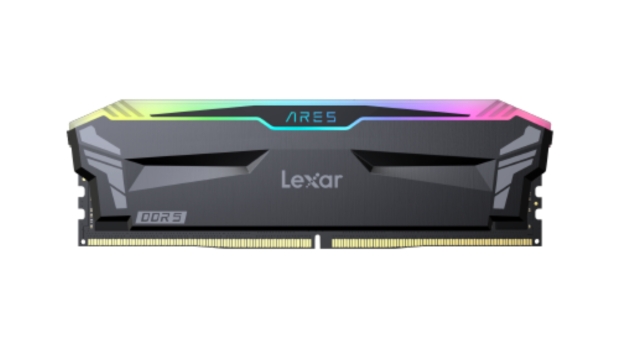 As per its namesake, the new Lexar ARES RGB DDR5 Desktop Memory features a funky RGB lighting strip, but with quick CL32-36-36-68 / CL34-38-38-76 overclocking timings via Intel XMP 3.0 and AMD EXPO, you've got speeds of up to up to 6000MHz.
The modules also feature built-in Power Management IC (PMIC) to enhance power efficiency and on-die ECC for improved stability and reliability. Plus, an aluminum heat spreader keeps them cool when gaming or alt-tabbing between a dozen different Chrome tabs, which seems to be the main culprit for my main rig's RAM usage.
Lexar notes that Lexar RGB Sync lets you customize the look of the lighting strip though there's no confirmation that the kits will support other RGB tools like AURA Sync and Mystic Light. Still, you've got the option to customize to suit your style.
Lexar ARES RGB DDR5 Desktop Memory also comes with a limited lifetime warranty and is available in 32GB kits via Amazon - see our link at the end of the article.
Lexar ARES RGB 32GB (2x16GB) DDR5 RAM 6000MHz - USD 149.99
Here's a breakdown of the specs.
Lexar ARES RGB DDR5 Desktop Memory
Capacity: 32GB Kit (16GBx2)
Memory Type: DDR5
Interface: 288PIN
Standard: XMP 3.0 & EXPO
Speed: 5600Mbps / 6000Mbps (XMP 3.0 & EXPO)
CAS Latency: CL32-36-36-68 / CL34-38-38-76 (XMP 3.0 & EXPOTM)
Voltage: 1.2V / 1.3V (XMP 3.0 & EXPOTM)
Operating Temperature: 0°C to 85°C
Dimension (W x L x H): L140 x W43.3 x H7.9mm (with heat spreader)
Application: PC Enthusiasts and Gamers