A Japanese company will attempting to secure first place in successfully landing private spacecraft on the surface of the Moon.
The Japanese company is ispace, and the spacecraft that is scheduled to touch down on the surface of the Moon is called Hakuto-R, which was recently launched by SpaceX's workhorse launch vehicle, the Falcon 9 rocket. Hakuto-R was launched in December 2022 and is currently in a circular orbit around the Moon at approximately 62 miles above its surface. ispace took to its official Twitter account to share an image of the surface of the Moon at 62 miles. The image was captured by Hakuto-R's on-board camera at 4:32 am on April 15 (JST).
The images didn't stop there as ispace shared an image of the lander snapping a photograph of Earth during the recent solar eclipse. This image, which can be seen below, was also taken at approximately 62 miles above the surface of the moon. As for the landing, ispace has shared an image of its designated primary landing site, which is located in the northeastern quadrant of the Moon. According to ispace, this location meets all of the technical specifications of the lander's technology, scientific exploration objectives, and mission requirements for its other customers.
Notably, the United Arab Emirates' space agency (UAE) has sent its Rashid rover, which is a artificial intelligence system developed by Canadian company Mission Control that's equipped with a multi-camera system designed by fellow Canadian company Canadensys Aerospace.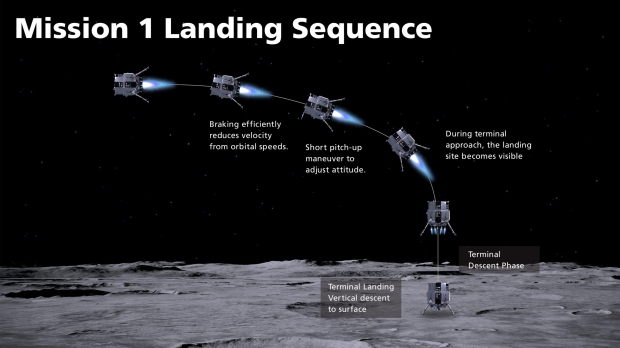 So, how will ispace's first landing attempt go? The landing sequence will take approximately one hour to complete as the lander will first perform a braking burn by firing its main propulsion system. This maneuver will decelerate the lander from orbit where it will then initiate a series of pre-set commands that will adjust its altitude and velocity. Upon approaching the landing site the lander will, if everything goes according to plan, softly touch down on the lunar surface.
So far, only the United States, China and the Soviet Union have successfully soft landed on the Moon. If ispace is manages to pull this landing off it will join a very exclusive club where its the only member, private companies that have soft-landed on the surface of the Moon.
In other space news, NASA has confirmed its $10 billion James Webb Space Telescope has glitched and an investigation has been launched by NASA engineers. If you are interested in reading more about the glitch or if Webb is still operational, check out the below link.