NASA's newest Mars rover, Perseverance, has turned its instruments on its scout helicopter Ingenuity, capturing an awesome close-up photograph of the first aircraft to fly on the surface of another planet.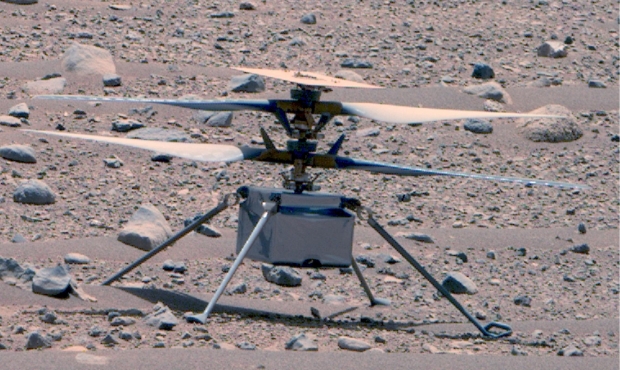 Perseverance and Ingenuity touched down on the Red Planet in February 2021 and, since then, have been exploring the Jezero Crater in search of any signs of ancient microbial life. Perseverance, along with Ingenuity, make a tag team partnership that involves Ingenuity scouting ahead of the Mars rover to observe any viable locations for scientific operations, upcoming terrain, potential hazards, and strategic travel planning. With Ingenuity's reconnaissance data, NASA engineers are able to plan an optimized travel route for Perseverance.
Throughout its two-year stay on the Red Planet, Ingenuity has conducted 50 flights, which has completely blown past its primary mission objective of attempting just one flight. On April 16, 2023, Perseverance came within only 75 feet of Ingenuity, marking the closest meeting between the two explorers in nearly two years, according to NASA JPL. Perseverance pointed its Mastcam-Z at Ingenuity and snapped some photographs that were then color-corrected.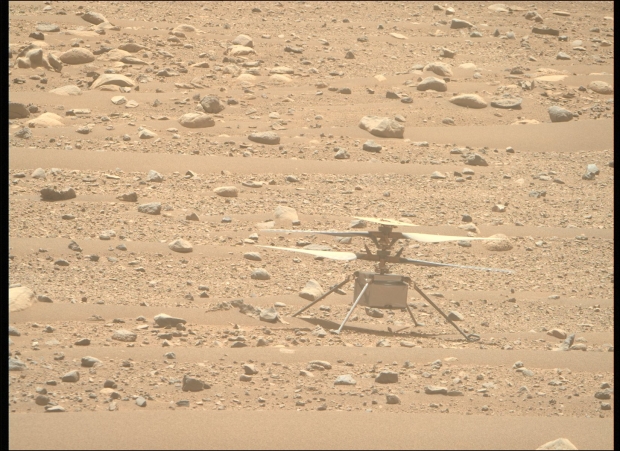 From the close-ups, we can see Ingenuity's rotors are covered in Martian dust that looks very similar to early stages of Earth-rust. Despite its appearance, NASA JPL writes on Twitter that Ingenuity appears to be "holding up well in the harsh Martian environment". As previously stated, Ingenuity was sent to Mars to see if it was possible to launch an aircraft on another planet. Since Mars' atmosphere is 1% as thick as Earth's, Ingenuity was equipped with special rotors that rotate 10 times faster than what is needed to fly on Earth.
Ingenuity first took flight just two months after it landed on Mars, and during its 50th flight, the small 4-pound helicopter broke its altitude record by reaching 59 feet above the surface of Mars. Additionally, Ingenuity traveled 1,057 feet over the course of 145.7 seconds on its 50th flight.
NASA's Mars helicopter has performed so well that China is now eyeing its design to incorporate its own version in its Mars sample return mission planned for 2030. China unveiled potential plans to construct its own Ingenuity-inspired helicopter that would be used to transport Mars samples to an ascent vehicle, which is NASA's backup plan for transporting Mars samples to its ascent vehicle in the event Perseverance can't make the journey.
If you are interested in reading more about Ingenuity or would like to learn more about China's plans for returning Mars samples back to Earth before NASA, check out the below link.