China revealed more details about its Tianwen-3 mission at the International Conference of Deep Space Sciences in Hefei, Anhui province, on April 22, where it will send two rockets around 2030 and bring back 500 grams of Mars samples.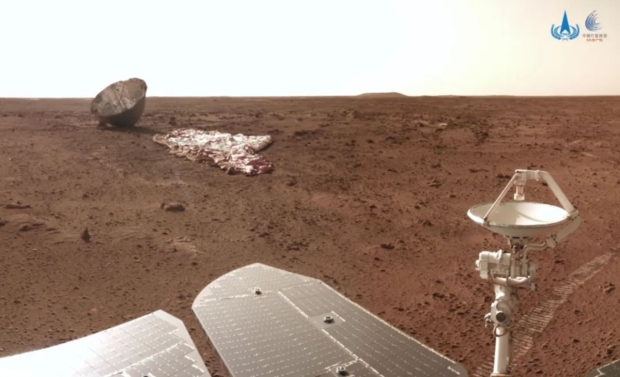 The mission will include launching two Long March 5 rockets at the end of the decade that will each be carrying a lander, ascent vehicle, orbiter, and return module. Spacenews reports that China will be leveraging the same technology that enabled the space agency to pull off the impressive entry, descent, and landing of the Zhurong rover on July 12, 2021. As for collecting Mars samples, China will be using the same robotic arm design as what was used in China's Chang'e-5 lunar sample return mission.
The robotic arm will be able to drill into the surface of Mars and collect samples from as far as two meters (6.5 feet) below the surface. The space agency expects to bring back approximately 500 grams of Martian samples that will be analyzed for the presence of ancient microbial life. As for the landing part of the mission, China unveiled plans to develop either a six-legged crawling robot or an Ingenuity-inspired helicopter that will transport the samples to the two-stage ascent vehicle.
Once loaded, the ascent vehicle will then launch from the Red Planet's surface and connect with an orbiter and dock. The samples from the ascent vehicle will then be transferred to the return vehicle, which will begin its long journey back to Earth.
So, when will all this take place? If everything goes according to China's plan, the two Long March 5 rockets could be launched in late 2028, and Mars samples would be returning to Earth sometime in July 2031. If this road map is accurate and China isn't hit with any delays, it would mean the nation will beat NASA and the European Space Agency's (ESA) Mars Sample Return Mission, which is aiming at Mars samples currently being collected by NASA's Perseverance rover returning to Earth in 2033.
All space agencies seem to have a unified goal of finding out if Mars once had the contains to support life. With that goal being paramount, China must select a landing site that has an appropriate environment to collect samples. Landing sites must have Martian terrain more than 3.5 billion years old.
The Mars sample return race has already begun, and judging by the plans outlined by space agencies, China seems like it may take first place. However, I wouldn't rule out NASA and the ESA entirely.