Regarding modding PC games, The Elder Scrolls V: Skyrim reigns supreme as one of the most modded games in history. From ray-tracing to 4K textures to entirely new questlines with fully voiced characters, Bethesda's iconic RPG from 2011 is still going strong - and thriving.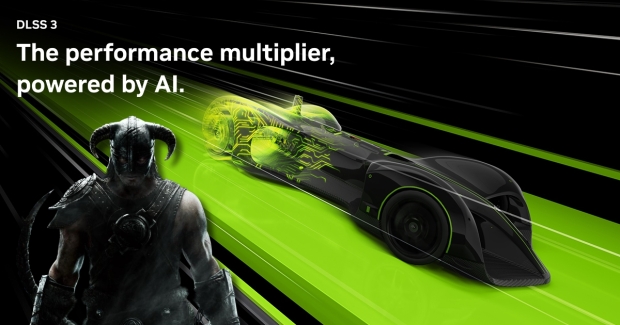 With the launch of the new GeForce RTX40 Series of GPUs from NVIDIA, one of the most talked about bits of new RTX tech has been the arrival of DLSS 3 and Frame Generation. An AI solution that generates entirely new frames to improve a game's performance - especially if there are any CPU limitations or bottlenecks.
With the DLSS 3 plugin publicly available, it was only a matter of time before someone looked at injecting it into the world of Skyrim. After successfully modding DLSS 2 (Super Resolution) into Skyrim and Fallout 4 - both run on Bethesda's Creation Engine - modder PureDark adds DLSS 3 and Frame Generation.
PureDark has shared a short video showcasing the addition of DLSS 3 in Skyrim with an upscaler interface similar to Portal with RTX. The results are impressive, showcasing a much smoother presentation regarding the frame rate - with a built-in tool to simulate CPU load for testing. DLSS 3 has been shown to offer impressive results for games that rely heavily on the CPU, like Microsoft Flight Simulator and Marve's Spider-Man Remastered.
There are issues relating to latency and getting NVIDIA Reflex to do its thing, which PureDark has flagged with NVIDIA (even Wccftech has notified NVIDIA's PR department). Hopefully, the issue will be resolved, and DLSS 3 in Skyrim will become a mod that all GeForce RTX 40 Series owners can enjoy. And pair with all manner of ray-tracing and fancy visual effects mods for Skyrim that can make the game look incredible.