A new blog post over at AMD titled "Building an Enthusiast PC" puts the majority of its focus on VRAM, especially when gaming in 1440p and 4K. With recent PC gaming community discussion around VRAM capacity and whether or not 12GB is enough for modern titles, and the launch of the GeForce RTX 4070 happening very soon - the timing of the piece is calculated.

But also timely as AMD highlights that when it comes to peak 4K memory usage in modern titles like Resident Evil 4, The Last of Us Part I, and Hogwarts Legacy with Ultra settings enabled - anything less than 16GB looks like a potential bottleneck. Of course, legitimate optimization concerns have been raised about a few of these titles, where more VRAM becomes a band-aid approach for PC games that still need development work.
Naturally, this post also shows that AMD's Radeon graphics cards have you covered when it comes to VRAM capacity. The 8GB VRAM of the Radeon RX 6600 Series is the 1080p enthusiast option, the 12GB Radeon RX 6700 Series is for 1440p, and the 16GB Radeon RX 6800 Series is for 4K.
"Without enough video memory, your experience may feel sluggish with lower FPS at key moments, more frequent pop-in of textures, or - in the worst cases - game crashes," writes AMD. "You can always fine-tune the in-game graphics settings to find the right balance of performance, but with more video memory, you are less likely to have to make these compromises."

And with that, AMD lists the pricing breakdown of its current range of Radeon graphics cards, starting from USD 499 for the 16GB Radeon RX 6800 and going all the way up to the Radeon RX 7900 XTX for USD 999. And with that, AMD offers comparison charts for Radeon GPUs compared to GeForce RTX GPUs, dictated by the discounted pricing of the Radeon RX 6000 series. This means the Radeon RX 6950 XT is against the GeForce RTX 3080. By that same token, the high prices for NVIDIA's new GeForce RTX 40 Series means that the Radeon RX 7900 XT is compared to the GeForce RTX 4070 Ti.
Here's the breakdown.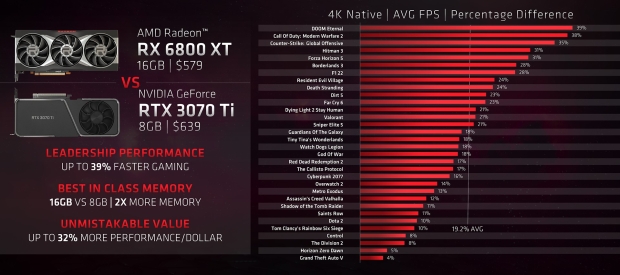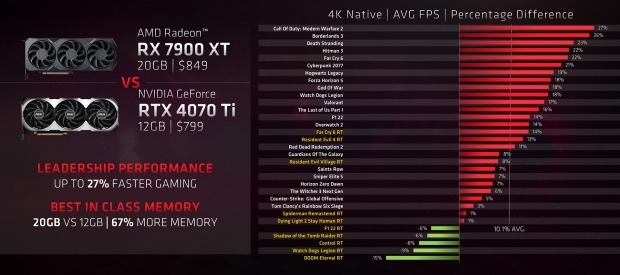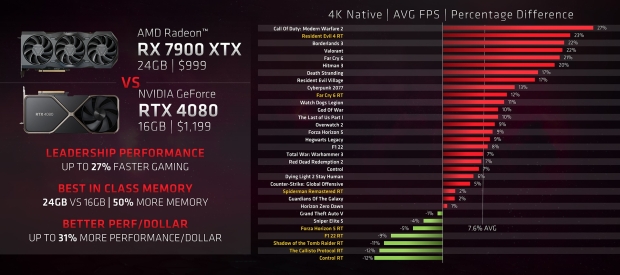 And with that, AMD states that the Radeon RX 6800 Series and Radeon RX 6900 Series represent the top graphics cards for 1440p and 4K performance regarding price and VRAM future-proofing. So even though this "Building an Enthusiast PC" is an informative how-to guide, it doubles as an argument for choosing a Radeon over a GeForce RTX - moments before the arrival of the GeForce RTX 4070.
With all the focus on the Radeon RX 6800 Series and Radeon RX 6900 Series, it makes me wonder when we will see more RDNA 3 GPUs enter the picture. At this rate, it's looking like NVIDIA will release the entire GeForce RTX 40 Series before we get our first look at the Radeon RX 7800 and Radeon RX 7700.