The KEBOHUB EE01 is born from a collaboration between Whatgeek and affordable Apple peripheral specialists 3inus. The goal is to combine a mechanical keyboard's precision and tactile feel with the versatility of a device hub. Designed primarily for MacBook Pro, MacBook Air, and iMacs from 2021 onward, the KEBOHUB is also compatible with Windows devices.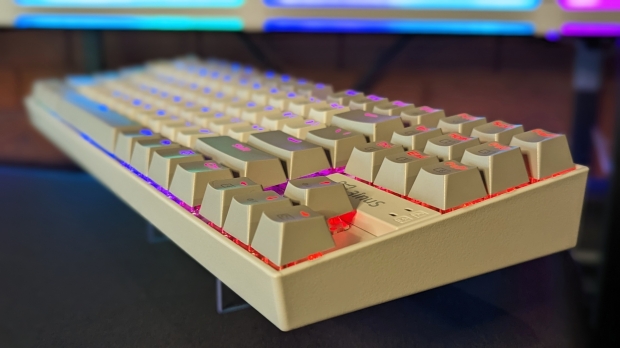 For that, 3inus packs in replaceable Windows-specific keycaps to integrate correctly. Sporting a funky two-tone look with full support for dynamic RGB lighting, I had the chance to test the KEBOHUB EE01 before its Kickstarter crowdfunding debut this week. And even though my platform of choice has always been PC, it was fun to dip into the world of Apple with the KEBOHUB.
Of course, the main draw here is the hub, powered by the KEBOHUB EE01's dual USB-C cable, which connects to your Apple device. The hub features multiple USB 3 ports and USB-C for charging and connecting things like storage devices directly to the keyboard and an HDMI port capable of outputting a 4K 60 Hz signal for a secondary display.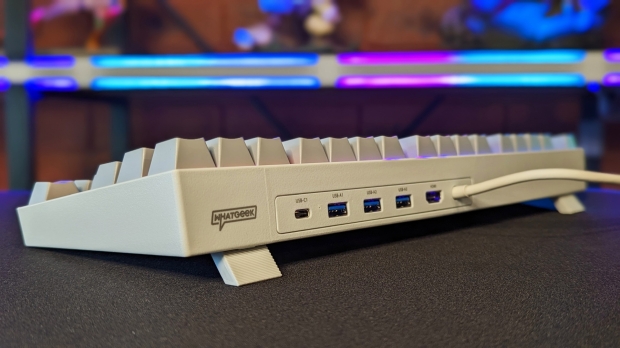 It's great being able to quickly add a second display to a MacBook Pro, especially one that can comfortably sit on a desk with all your other peripherals, so all you need to do is connect to the KEBOHUB EE01. The same goes for a home office setup using a modern Windows laptop with multiple USB-C ports.
It's worth noting that the dual USB-C cable requires both USB-C ports on the Mac or PC side to be next to each other. This is more of a problem in the PC space due to separated USB-C ports. With only a single connection, you are limited in terms of the charging output, but the KEBOHUB still works.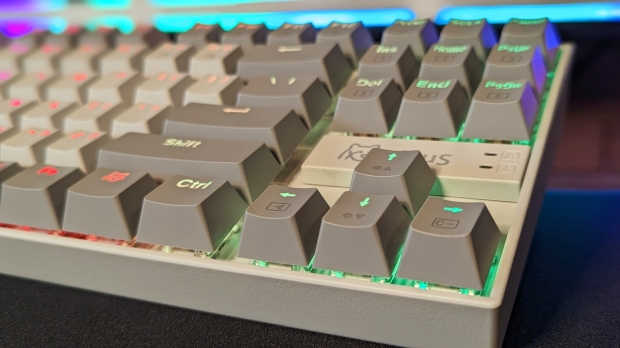 A hub integrated with a keyboard and the productivity features that brings make the KEBOHUB EE01 an excellent device. Running a separate hub for a home office driven by a laptop is common, so combining a keyboard and hub combo is undoubtedly a winner.
Here's a look at the specs for each port.
HDMI - HDMI 2.0, Max 4K/60 Hz, HDR supported, HDCP 1.4/2.3

USB-C1 - USB 3.0 5Gbps, compatible with USB 2.0 480Mbps, charging port

USB-A1 - USB 3.0 5Gbps, compatible with USB 2.0 480Mbps, charging port

USB-A2 and USB-A3 - USB 3.0 5Gbps, compatible with USB 2.0 480Mbps
The hub side of the KEBOHUB worked great with my early testing, with no discernable lag when transferring files from an external drive while charging a phone on another port - thanks to the high-speed USB-C connection and bandwidth.
The good news is that the mechanical keyboard side of the KEBOHUB lives up to its promise, too, with great-feeling linear switches (there will be clicky versions available) backed up by a 70-million-click lifespan. It's a more than capable mechanical keyboard with direct function access to a suite of RGB effects (that you can disable for a more minimalist Apple look) and media controls.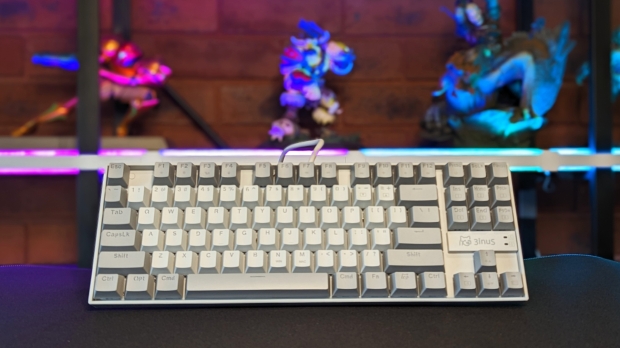 The TKL form factor is in line with recent trends in the keyboard space and matches the funky two-tone look of the keycaps - which also have a great feel. 3inus provided a set of grey keycaps with the KEBOHUB EE01, and both the keycaps and the switches are hot-swappable - another excellent feature.
Compatible with Mac and Windows PCs, the KEBOHUB EE01 is something to consider if the idea of a keyboard and hub combo sounds like something that will fit your setup.
The Kickstarter crowdfunding page for the device is live right now, with an introductory price of USD 84 for the first 500 backers - which will jump up to USD 99 once the first batch runs out.