Zoom IQ, the AI helper on the Zoom videoconferencing platform, has been given a boost and a whole heap of additional features.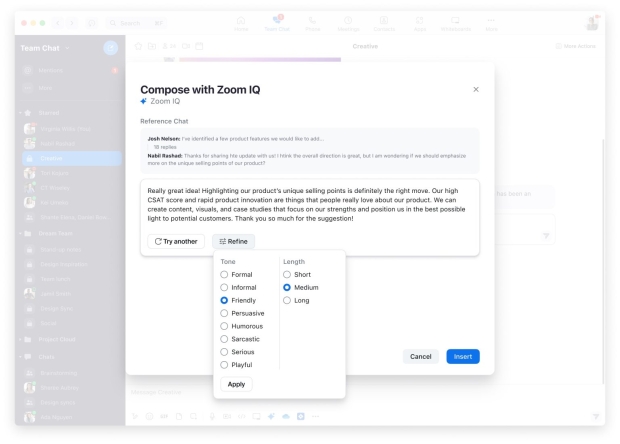 Zoom announced the new capabilities while noting that the AI's powers are being bolstered by incorporating tech from OpenAI - the outfit that develops the widely used ChatGPT bot - alongside proprietary and other AI models.
As a result of this melting pot of AI tech, Zoom IQ will get a lot smarter, we're told, and help out users a good deal more when it comes to that central aspect of the platform - having meetings (and lots of them, invariably).
One new string for the bow of Zoom's AI assistant is the ability to catch you up on a meeting if you're late - when you arrive, Zoom IQ can deliver a real-time summary of what has been discussed so far.
Similarly, if you miss the entire meeting, the AI can summarize the whole thing and post the full details to Zoom Team Chat, while adding elements such as suggested actions that people involved in the meeting may wish to take.
Zoom IQ can also summarize chats, so you don't have to sift through long message threads that you've missed because you were busy elsewhere while other staff members embarked on a discussion. Furthermore, a 'chat compose' feature will draft suggested responses, too, enabling users to select from different tones to provide swift customization options for replies.
The AI's composition skills won't be limited to messages, either, as you'll be able to get Zoom IQ to write emails. Note, though, that the rollout of these features will be staggered, happening in phases and by invitation starting in April.
Initially, we can expect to see the Zoom IQ meeting summary features deployed more widely alongside the chat compose functionality, but the email composition feature will only be available for Zoom IQ for Sales, at least to begin with.
Since the pandemic, a lot more of us are working at home, at least some of the time, so Zoom has become a regular fixture in the lives of quite a few folks. Zoom IQ should go a fair way towards helping everyday work run more smoothly for those people, and missing a meeting - part, or all of it - is not going to matter so much when you can easily benefit from detailed summaries of what occurred.
As ever, though, there are lessons in the past regarding the reliability of AI - particularly when new incarnations of chatbots, or fresh features, are rolled out - and so we must balance the enticing added conveniences here with a healthy dollop of caution.
There are potential worms in this can of AI tricks, for sure. The potential for a major work-related howler to be committed based on an errantly-summarized meeting, for example, is clear. As is the overreliance on automated messaging, which could cause offense, perhaps, if the message's recipient doesn't appreciate that you didn't take the time to reply personally, and instead used a (detectably) canned response.