An administrative law judge has ordered Microsoft to comply with all Activision merger document requests made by the FTC's complaint counsel in a recent motion.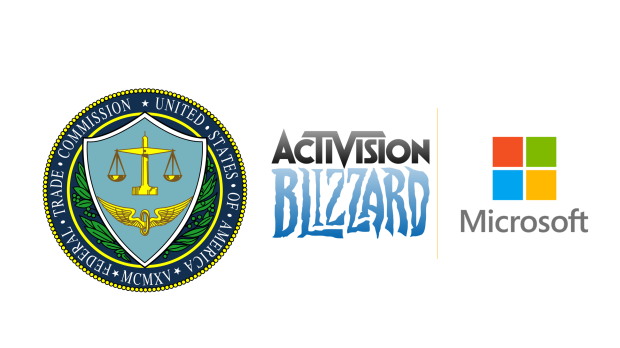 Recent filings indicate the Federal Trade Commission is having trouble getting specific documents from Microsoft and Activision. FTC complaint counsel (the lawyers representing the FTC that seek to block the merger) filed a motion to compel production of documents. Statements from the FTC say that Microsoft was largely uncooperative and "have refused to produce anything at all for 24 requests."
Microsoft and Activision-Blizzard counsel argued against the motion and said that the requests (known as RFPs in this context) are "duplicative and unduly burdensome" because they'd require the companies to "re-review millions of documents previously deemed least relevant." The respondents (Microsoft and Activision) argue that complaint counsel has received 17 million pages in a massive second request.
There's been specific language used to describe Microsoft and Activision-Blizzard's compliance with the discovery requests (discovery in this case is another word for the massive information-gathering portion of this process), including terms like "resistant" and many instances of "refusal".
Counsel for the respondents also highlighted a deal that they made with the FTC's complaint counsel as well as specific portions of this process.
Under the deal, Microsoft would use its technology assisted review to produce documents. The FTC wants Microsoft to re-search using specified search terms, a process that Microsoft argues is replicative, difficult, and expensive.
Now Administrative Law Judge Michael D. Chappell has delivered an order on the motion.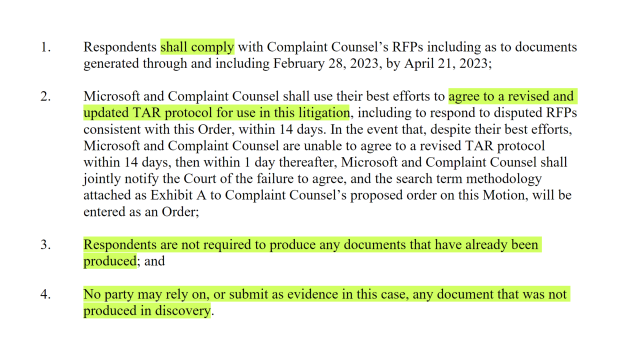 ALJ Chappell is not convinced by Microsoft's "unpersuasive" objections. Here's a summary of the judge's order:
Microsoft and Activision-Blizzard ordered to comply with all of complaint counsel's RFP document requests

Document date range is through and including Feb 28, 2023

Microsoft and Activision-Blizzard must deliver these documents by April 21, 2023

Respondents must work with complaint counsel to revise the tech used to find and produce relevant documents

If the two cannot find a solution, Microsoft and Activision-Blizzard must use the search terms methodology proposed by the FTC

Both ATVI and MSFT say this methodology is unduly burdensome and costly

Respondents do not have to produce duplicate documents (however this was always a condition made by complaint counsel and respondents

"No party may rely on, or submit as evidence in this case, any document that was not produced in discovery."
ALJ Chappell also denied part of the FTC complaint counsel's motion because Activision-Blizzard had agreed to produce the documents.
According to an objection filing from Microsoft and Activision-Blizzard, the companies will now have to comply with 81 requests for production made by the FTC's complaint counsel. Both MSFT and ATVI say that the "wide-ranging RFPs that are not reasonably calculated to yield useful information."