Recently we reported on ASUS's new BTF motherboard range, where the physical design put all the primary connections on the underside for improved cable management. It's part of the company's DIY-APE design. In fact, it's the sort of design that we'd love to see become standard - the only real catch being that, as of now, only a limited number of cases support the design.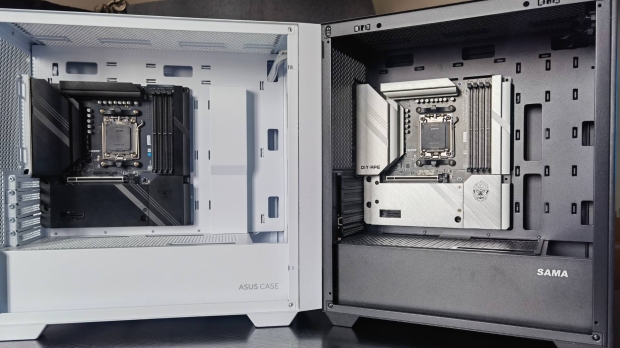 That is, cases with suitable holes and space so these new motherboards can be mounted in the first place. But with one of the largest manufacturers of motherboards, ASUS, creating motherboards like the TUF GAMING B760M-BTF WIFI D4, we've also got word that another big player is looking to do the same.
With new reports coming in, it's looking like MSI is prepping its own AMD B650 motherboards with the main power connectors on the underside. And Maxsun too. On the MSI front, we'd love to see the design as part of the company's iconic Tomahawk range.
It's fantastic to see because the design completely removes and hides those chunky motherboard power connectors and removes the need to give them a super tight bend to make them as invisible as possible using a standard ATX formfactor motherboard and mid-tower case.
Reports indicate that MSI is prepping two motherboards with the "DIY-APE" design, and the images we see highlight an ASUS case designed for the new style. Apart from the fact that these motherboards feature a very different physical design and make-up, specs, and feature-wise, they will be identical to their non "cables-on-the-back" counterparts.
As of writing, these are qualification samples - but they could be an indicator that we're on the way to a fundamental shift in the physical design of motherboards and PC cases.