Retroware is reviving an obscure batch of cartoon misfits from the early 1990s in an explosive nuclear blast from the past.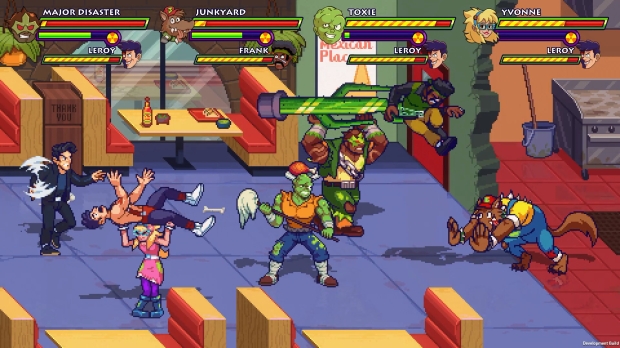 Teenage Mutant Ninja Turtles ruled the 1990s with its cartoon series, which was a thinly veiled advertisement to sell colorful toys and merch. Everyone wanted in on the action, even Troma, a rebellious movie production company known for their incredibly violent B-grade horror movies. Through the love of money, the Toxic Crusaders were born.
The Toxic Crusaders cartoon series very loosely based on one of the most horribly violent and offensive movies during the mid-80s, the Toxic Avenger. Obviously there was no outright horror themes in the cartoon, but it did have a kind of disgusting charm to it nonetheless.
The series mimicked pro-environmental cartoons of the era, including Captain Planet, while providing brightly-lit characters that could be sold as kid's toys. The TV show was short-lived but it had an effect on me as a kid.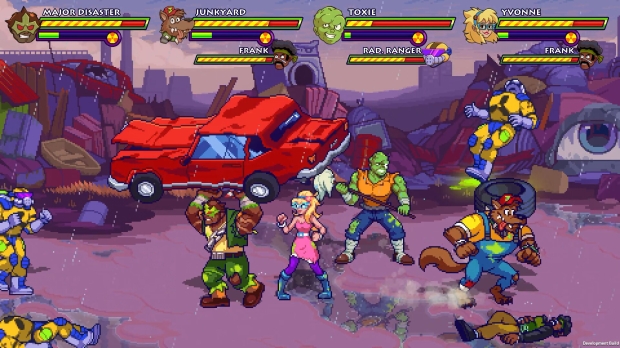 Fast-forwarding to today and we see Toxic Crusaders coming back as a bit-style beat-em-up that caters directly to 30-somethings like myself.
The game is being developed by Retroware, who made the Angry Video Game Nerd games, and features four-player co-op set in the cartoon world. There's also characters directly lifted from the show and the game itself looks like a blast.
Toxic Crusaders is due out sometime in 2023 on Steam. Check below for more information:
SUMMARY

When the evil Dr. Killemoff attacks, only one team of hideously deformed creatures of superhuman size and strength stands between him and his plans for global pollution: the Toxic Crusaders, earth's last, greatest and ugliest hope for survival! The hottest heroes of 1991 return for a radical, radioactive beat 'em up for a new era, featuring awesome action, crushing combos and more toxic waste than you'll know what to do with!

IT'S CLEAN-UP TIME!

Choose from seven playable characters, including Toxie, No-Zone, Junkyard, Major Disaster and Headbanger (who would technically count as two characters if they could only agree on something) - plus, for the first time, play as Toxie's musically "gifted" girlfriend Yvonne, and the mother of all mothers, Mrs. Junko, Toxie's mom!

Battle across seven disgusting levels rendered in beautiful full-color pixel art as you defend Tromaville from hordes of Radiation Rangers, mutated thugs and zombie chickens. The odds might be stacked against you but with awesome powers, a winning personality and up to four-player local co-up on your side, the Smogulan Empire's days are numbered!

STRAIGHT OUTTA TROMAVILLE!

Take a deep breath and dive deep into an action-packed, pun-filled adventure that drags you kicking and screaming through the wonderful world of Troma. Enjoy cameos from gore-filled classics such as Class of Nuke 'Em High, Poultrygeist: Night of the Chicken Dead, and Sgt. Kabukiman N.Y.P.D. - reimagined in the Saturday morning cartoon style that made this franchise so unforgettable!

FEATURES

The triumphant return of the Toxic Crusaders, just when we needed them most!

Pulse-pounding beat 'em up action for up to four players

Gorgeous full-color pixel art graphics

A stunning soundtrack that'll make you party like it's 1991

Amazing comic book cutscenes featuring the voices of TeamFourStar (Dragon Ball Z Abridged)

Seven playable characters, each with their own unique moves and powers

Seven unique stages taking you from the streets of Tromaville to Planet Smogula and beyond!

Surprise cameos (each more surprising than the last) from across the Troma Cinematic Universe!