As Microsoft prepares to spend $68.7 billion to acquire Activision-Blizzard, Sony's management confirms that it has $5 billion left to make strategic investments and acquisitions.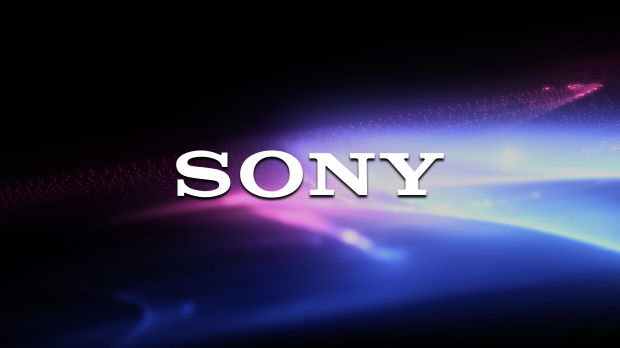 Every four years, Sony's board of directors creates a new Mid-Range Plan that sets a spending budget for the period. Sony's current Mid-Range Plan has authorized the company to spend 2 trillion yen (about $14.6 billion in today's conversion rates) on acquisitions and investments, business expansion, and share buybacks. The coffers haven't run out yet, and Sony still has multiple billions of dollars to spend.
Sony's new president Hiroki Totoki has confirmed that 1.3 trillion yen has been spent so far, leaving 700 billion yen (or about $5.1 billion) that can be spent from April 2023 to March 2024. This remainder does reflect the $3.7 billion that Sony spent to acquire Bungie. Also remember that this value is for all of Sony Corp., and not just PlayStation. However, Totoki does say that he wants to continue making investments in Sony's three entertainment segments, so we could see another gaming acquisition.
"We have spent almost 1.3 trillion yen in the last few years. We have another year more and we would like to generate more than 3 trillion yen cash flow in three year's time," Sony Corp. President and COO said in a recent Morgan Stanley technology conference.
"Next fiscal year is the last fiscal year in the current Mid-Range Plan. We will allocate the operating cash flow to strategic investment and capital expenditure as well as share buyback."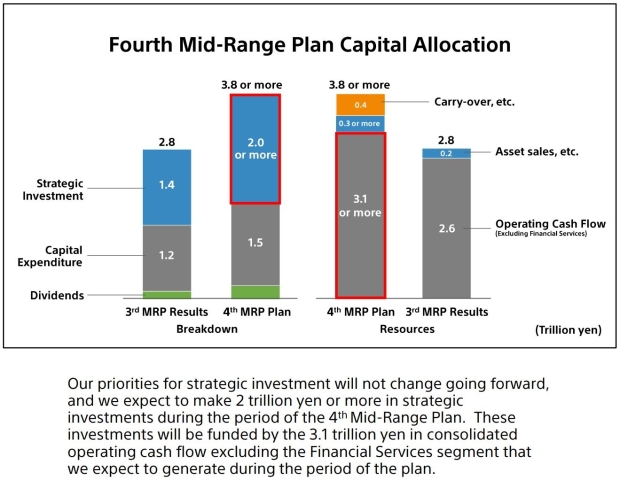 To be clear, Sony likely will not spend the entire remaining $5.1 billion on a video games acquisition. The Mid-Range Plan budget is spent across three key areas:
IP/Direct-To-Consumer - This includes major video game studio acquisitions like Insomniac Games and Bungie, as well as entertainment buyouts like the Funimation acquisition. Sony's large $1 billion investment in Epic Games is also an example, and so is the recent 30% share purchase in FromSoftware.
Technology - This includes Sony's purchase of cloud streaming network Gaikai, which is the infrastructure that powers its PlayStation game streaming, as well as Sony's acquisition of audio experts at Audiokinetic.
Share repurchases - Sony routinely spends billions of dollars on share buybacks. This increases the value of company stock by reducing the overall amount of shares outstanding.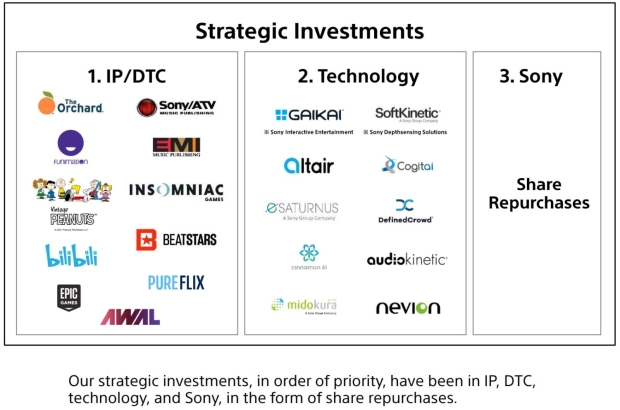 Totoki affirms that entertainment is a great area for investment due to the higher probability of successful returns. This is especially true for the PlayStation video games division, which has delivered record-breaking revenues and stellar operating profit throughout the years.
"I would like to continue to make investments towards entertainment areas."
"We have Games & Network Services, Music, and Pictures. These three entertainment areas are good places to make investments and expect good returns. We will continue to make investment towards our capital expenditure and our Imaging and Sensing Solutions (I&SS) business as well."