An asteroid originally discovered in 2005 is about to get closer to Earth than it has in the past 400 years.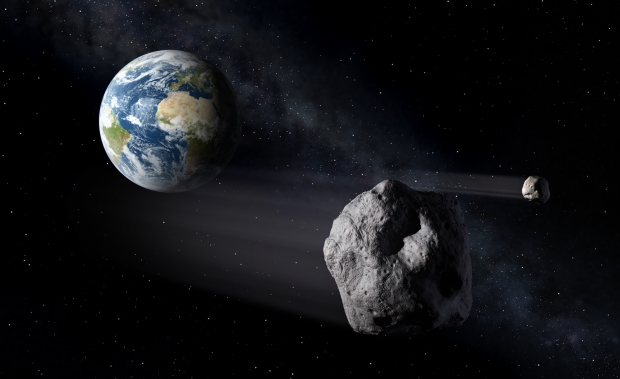 The incoming space rock is expected to approach Earth on February 15, coming within 2.8 million miles of our planet at 7:46 pm EST and marking the closest moment this space rock has gotten to Earth's surface within the past 400 years. For those that can't visualize 2.8 million miles, the asteroid called 2005 YY128 will fly safely past Earth at a distance of approximately 12 times the distance between the Earth and the Moon.
Experts have emphasized that there is zero chance that this asteroid will collide with our planet as 2005 YY128 is an asteroid that's had its orbit mapped out to a very precise level. Researchers have been studying the asteroid for the past 17 years, and from their observations, they have derived a precise orbit but not a concise prediction of its size. Unfortunately, researchers have a large discrepancy between their predictions, with EarthSky reporting that astronomers suspect 2005 YY128 has a diameter anywhere between 1,903 feet and 4,265 feet.
Since the asteroid's diameter is greater than 100 feet and it comes within 4.6 million miles of Earth, 2005 YY128 is classified as a potentially hazardous asteroid (PHA), by NASA's definition explained on its website. Notably, a PHA is an asteroid large enough to make it to Earth's surface (100 feet diameter minimum) and orbits the Sun within 4.6 million miles of Earth. If 2005 YY128 did collide with the surface of Earth, it would cause devastating widespread destruction, even if it actually measures at its bare minimum diameter of 1,903 feet.
According to Sweden-based nonprofit Global Challenges Foundation, which wrote a post on threats of asteroids, if an asteroid with a diameter of approximately 500 feet collided with the surface of Earth, it would cause regional up to continental devastation, potentially killing hundreds of millions of people. If the largest near-Earth asteroids measuring 3,200 feet wide and above, hit Earth's surface, it would disrupt human civilization as a whole. Earth would experience drastic changes in climate and be at risk of extinction depending on the asteroid's size and the fallout of the event.
To prevent a disaster such as this, NASA formed the Planetary Defense Coordination Office, which tracks any near-Earth object. According to NASA and its partners, global efforts have resulted in the discovery of 95% of all asteroids larger than 0.6 miles and orbit within 30 million miles of Earth. None of these asteroids pose a threat to Earth for at least the next 100 years.