Use third-party apps from Razer, Corsair, ASUS, MSI, and others to manage and sync RGB lighting on all your PC hardware. That's how it has been for many years now, and to be honest, that's how we expected all things RGB and lighting would continue for the foreseeable future. Well, as per the latest public test build of Windows 11, it looks like Microsoft is adding the ability to customize lighting directly within Windows settings.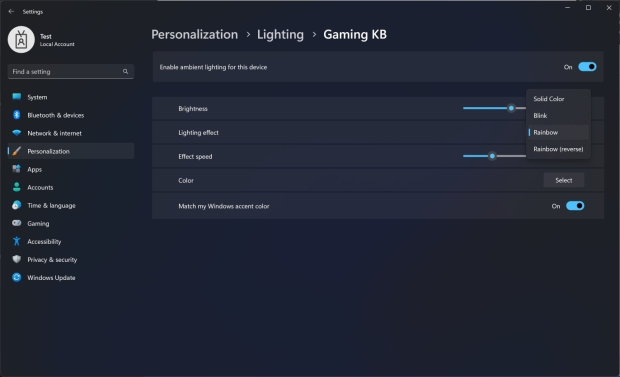 As spotted on Twitter by user Albacore, the options appear in the 'Personalization' section of Windows 11 and include all of the basic stuff you'll need to customize RGB lighting. It's a simple interface, but it includes options to adjust brightness, Lighting effects, Effect speed, and Color, and even have your lighting match your current Windows accent color. What effect this will have on people installing Razer Synapse or Corsair iCUE to manage their lighting remains to be seen. Still, it's certainly interesting to see these features being added to Windows 11.
Microsoft's approach has been all over the place regarding Windows as a platform for PC gaming. However, with Windows 10 and now Windows 11, the integration of the Xbox app and PC Game Pass has seen a renewed focus on Windows as a hub for gaming, so it makes sense that controlling RGB lighting would inevitably become a part of Windows.
Microsoft hasn't officially announced the feature, so it's currently an experimental addition. There's a good chance this will be formally released as part of a larger Windows 11 update later this year, which is also set to improve audio controls, revamp File Explorer, and even add tabs to Notepad.