Microsoft's DirectStorage technology brings lightning-fast loading times to PC games, with near-instantaneous gaming similar to what we saw when the PlayStation 5 launched. How it works is that it uses the GPU for asset decompression, which dramatically improves loading. And it requires a modern M.2 SSD to work. Forspoken, from Square Enix, is the first game to use the DirectX technology on PC, and German publication PC Games Hardware has been checking it out to see what effect it might have on in-game performance and frame rates.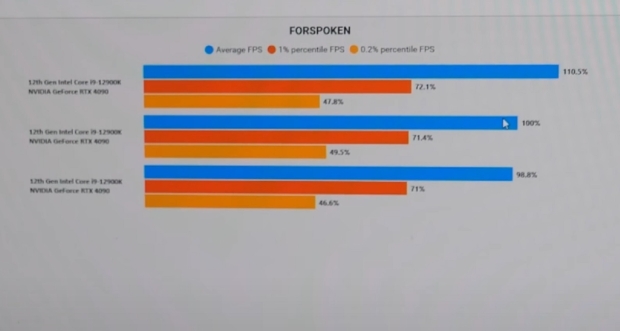 For the GeForce RTX 4090, you're looking at a 10% drop in overall frame rates when comparing a standard SATA SSD without DirectStorage enabled to it running on an M.2 SSD. An average FPS of 83.2 compared to 75.3/74.4. Interestingly the 1% lows aren't affected, which means that the overall performance was smooth despite the lower average.
Of course, this is a single system, one game, and unspecified hardware, so it might not point to a situation where a 10% drop in performance would be the norm for DirectStorage-enabled games. The tests are also limited to 4K, so it could be a different story in 1440p. Also, with NVIDIA RTX IO being NVIDIA's implementation of DirectStorage for its GPUs, we're unsure if there were any specific driver accommodations for this feature for Forspoken -an AMD-sponsored title.
DirectStorage is an exciting addition to PC gaming, and being able to eliminate long loading times will be a big deal in the future. And with that, we'll be paying close attention to its implementation in upcoming games to see its impact on GPU hardware and in-game performance.