It's no secret that high-end CPUs and GPUs perform better in colder temperatures, especially when overclocking enters the picture. It's the reason why LN2 or liquid nitrogen is used to cool hardware pushing insane speeds - as opposed to, say, lava.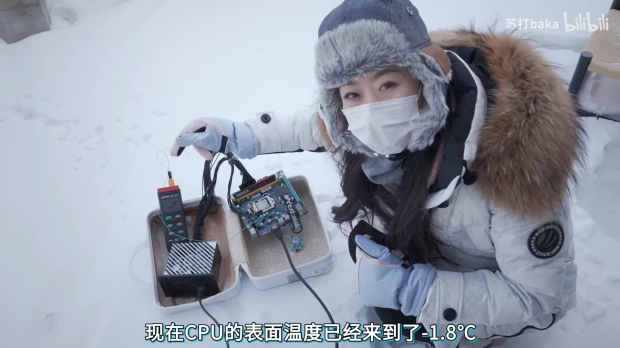 Thanks to a Chinese content creator by the name of "苏打baka," we've now got confirmation that a powerful gaming PC rocking an Intel Core i9-13900K CPU and NVIDIA GeForce RTX 4090 will have no problem functioning during the next Ice Age.
Some regions of China are experiencing some of the coldest temperatures they've seen for decades right now, so she decided to take her gaming rig to see how it holds up in a sub-zero -53C climate. And apparently, no hardware was damaged in the creation of the video.
Great news for those out there planning to ride out the next ice age playing PC games.
What's very cool is that we also get to see an older-generation CPU without any heatsink or cooling outside of the freezing temperatures maintaining an icy -1 degrees C even when using AIDA64's stress test. The real fun, of course, came when it was time to fire up the Intel Core i9-13900K processor and an ASUS GeForce RTX 4090 ROG STRIX graphics card.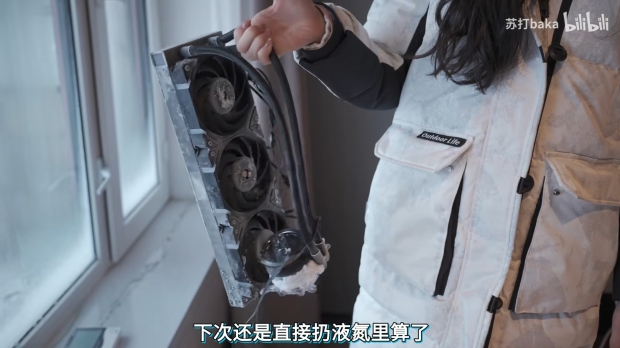 Using a 360mm AIO cooler, the pump died, and the liquid froze due to the temperatures. Switching over to air cooling and a mix of high-end fans and a Noctua NH-P1 passive heatsink, the CPU sat at around 10-15C - which is remarkable when you consider that it's not unusual for a stress-tested Intel Core i9-13900K to push well over 90C. The CPU was overclocked to 6.18 GHz too.
Things were even more impressive on the RTX 4090 side, with a -40C temperature recorded and temperatures staying below 30C. Of course, being in freezing temperatures, all of the cables end up covered in ice, which is a little concerning.