An astronomer discovered an asteroid on January 21, 2023, and found that it's going to be making a very close approach to Earth in the coming days.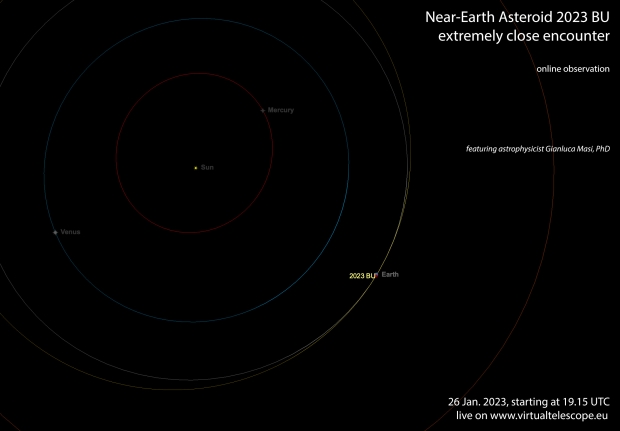 The asteroid called 2023 BU was discovered by astronomers Gennadiy Borisov at the MARGO Observatory in Crimea. The asteroid was identified, and calculations were performed that estimated the small space rock will make its closest approach to Earth on January 26 at an altitude of just 2,178 miles above the surface of the Earth.
For perspective, geostationary orbit is at an altitude of approximately 22,000 miles. This level of orbit is commonly used by satellites that are locked into a circular synchronized orbit around Earth, in which the satellite's orbital period is the same as Earth's rotation period of 23 hours and 56 minutes (1 day). Researchers estimate that 2023 BU has a diameter between 12 and 28 feet, and since it's relatively small, it will be difficult to spot without a powerful telescope and a skilled operator.
However, the Virtual Telescope Project will be livestreaming the event for anyone interested in watching this asteroid's extremely close fly by.
"Asteroid 2023 BU will have an extremely close, but safe, encounter with us, coming [within] less than 10,000 km from the Earth's center, about 25% of the geostationary satellites' distance," writes Gianluca Masi, an Italian astrophysicist, and astronomer.
If you are interested in reading any more about asteroid 2023 BU, check out NASA's Center for Near-Earth Object Studies database that details any object making its way towards or around Earth.