A new update to the popular messaging app WhatsApp lets users start a conversation with themselves. Handy for notetaking, reminders, and keeping up with scheduling, it's rolling out to all users as part of the latest update. You'll even be able to leave yourself voice memos.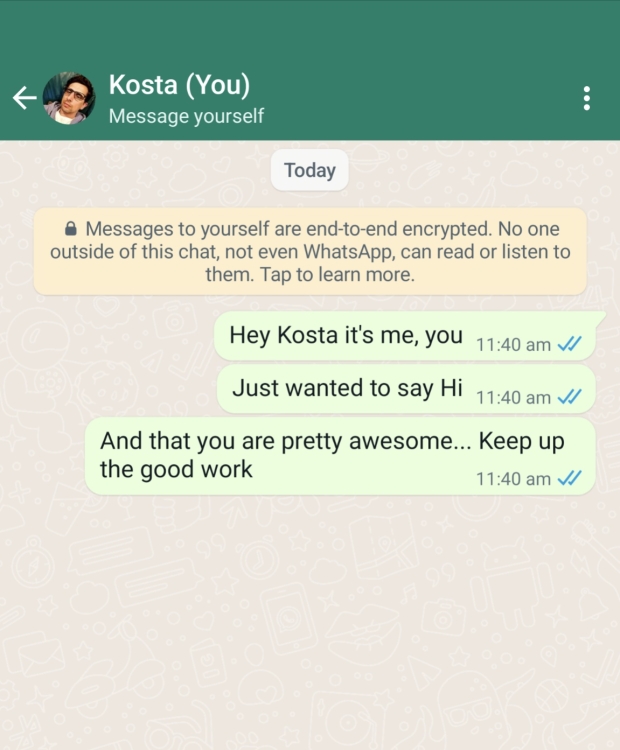 It's a feature seen in other messaging apps like Facebook Messenger and Instagram, both owned and operated by Meta, and will no doubt be a handy tool for those that use similar functionality to send themselves reminders or notes.
The update also brings attention to some of the lesser-known WhatsApp tricks where on iOS and Android, you can easily pin your location into a chat. Also, being able to drop notes to yourself will add a new layer to the chat search functionality - to find specific info.
Also, this means you'll be able to use the WhatsApp desktop app or visit https://web.whatsapp.com/ to access your notes when you're not on your smartphone, which will automatically sync with the app on all devices. This works both ways, so you can make notes at your desk and then call on those when you're out and about.
Another great trick for the new feature would be to use the Disappearing Messages option for a specific chat that lets you set a timer of 24 hours, seven days, or 90 days. This will allow you to use the new chatting with yourself feature to track current notes and reminders, knowing that older memos will disappear automatically at a certain point.