AMD details Zen CPU roadmap: Zen 5 with V-Cache on 4nm + 3nm in 2023
AMD details plans to launch Zen 5 CPU architecture based on both TSMC 4nm + TSMC 3nm in 2025: Zen 5 + Zen 5 with V-Cache + Zen 5c.
Published Jun 12, 2022 7:48 PM CDT
|
Updated Tue, Jul 5 2022 8:29 AM CDT
1 minute & 26 seconds read time
AMD has been very confident with its rollout of its Zen-based CPU architecture, but now the company has better detailed its CPU core roadmap at its recent AMD Financial Day 2022 event.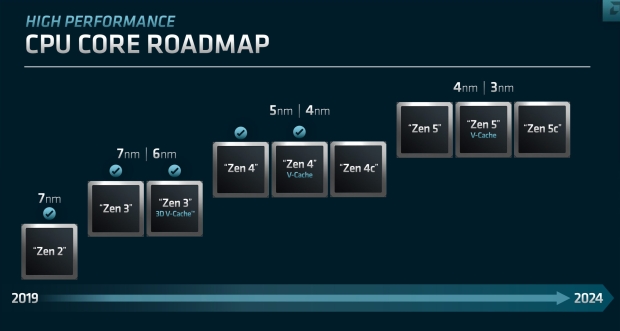 AMD has said that it will have both Zen 4 and Zen 5 architectures on the market in 2024, with Zen 4 + Zen 4 with V-Cache + Zen 4c CPUs made on TSMC 5nm and 4nm process nodes this year, and into 2023. But in 2023 and into 2024 and beyond, AMD will introduce its next-gen Zen 5 CPU architecture with Zen 5 + Zen 5 with V-Cache + Zen 5c CPUs made TSMC 4nm and TSMC 3nm process nodes.
Zen 5 is a "new grounds-up microarchitecture" explains AMD, saying that it is "optimized for scale across workloads". AMD's new Zen 5 architecture will have "enhanced performance and efficiency", a "re-pipelined front end and wide issue" and "integrated AI and Machine Learning optimizations".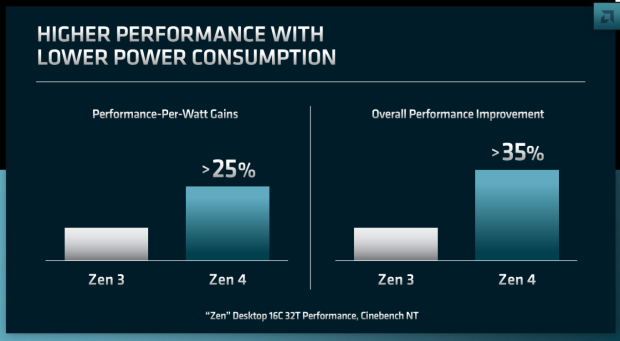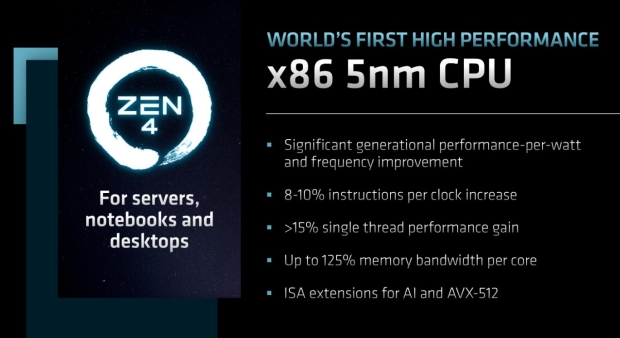 AMD Ryzen 9 5950X 16-core, 32-Thread Unlocked Desktop Processor (AMD Ryzen 9 5950X)
Related Tags