Epic shows how UE5's Nanite tech can radically improve in-game visuals
New side-by-side images show how Unreal Engine 5's new Nanite micro-polygon technology can radically improve in-game visuals.

Published Thu, Apr 7 2022 3:54 PM CDT
|
Updated Sun, May 1 2022 6:25 PM CDT
Nanite is one of Unreal Engine 5's most powerful new features that can help game developers make their titles look better without meticulous work.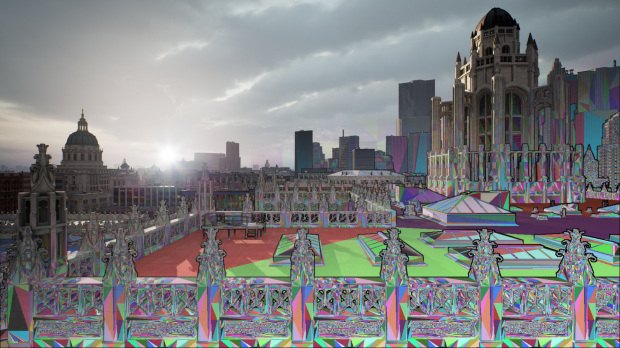 Epic just released Unreal Engine 5 with a host of new improvements, optimizations, and features to power next-gen games. UE5 emphasizes streamlined workflows in an effort to reduce friction and give developers tools to make games faster and more detailed than ever before. One of the headlining new features of UE5 is Nanite, a new micro-polygon geometry feature that allows devs to directly import ultra high-definition movie-quality assets into scenes without kit-bashing or having to bake down assets into low-poly models.
The results speak for themselves. Side-by-side shots show just how much of an improvement that Nanite can offer developers, particularly in busy and complex environmental scenes (such as the city in the mesmerizing Matrix Awakens gameplay tech demo).
"Nanite micro-polygon technology allows for billions of triangles on the screen at any moment and lumen's real-time global illumination enables high-realistic lighting. Nanite and lumen combine together to generate real-time content at a level that would've seemed like magic only a few years ago," Epic Games Chief Technology Officer Kim Liberi said.
Read Also: Here's how Unreal Engine 5's new Nanite tech will transform next-gen game dev
Nanite is a virtualized micropolygon geometry system that enables artists to create games with massive amounts of geometric detail. It works by intelligently streaming and processing only the detail you can perceive and no more.

Nanite largely removes burdensome poly count and draw call constraints, and eliminates time-consuming and tedious work such as baking details to normal maps or manually authoring LODs, freeing artists to concentrate on creativity. You can now directly import film-quality source art comprised of millions of polygons-anything from ZBrush sculpts to photogrammetry scans-and place them millions of times, all while maintaining a real-time framerate, and without any noticeable loss of fidelity.
Related Tags