FromSoftware's new Armored Core game is a sci-fi Dark Souls
FromSoftware's Armored Core game is reportedly back on track as it wraps up finishing touches on its new fantasy RPG Elden Ring.
Published Jan 9, 2022 2:01 PM CST
|
Updated Thu, Feb 3 2022 1:02 AM CST
2 minutes & 38 seconds read time
Dark Souls designer Hidetaka Miyazaki will apparently lend his unique vision to the Armored Core series.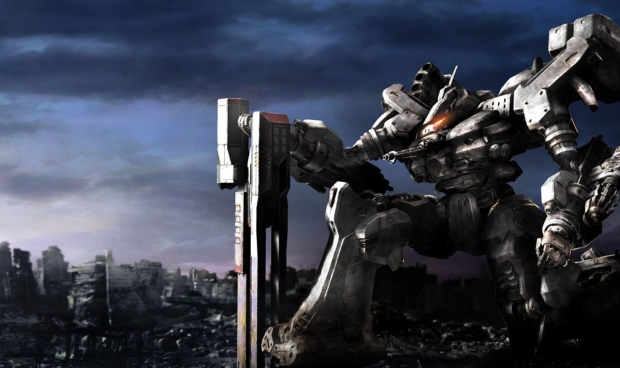 It looks as if FromSoftware's new Armored Core game is back on track. One ResetERA user claims to have taken a NDA consumer survey that showed screenshots and a snippet of gameplay, including boss fights and world exploration. There's a description that we've transcribed below, but it's worth mentioning the original purported screenshot has a spelling error, and the story also focuses on melange, which is the name of the spice in Dune. This could possibly result in copyright infringement.
The leak describes all the hallmarks of Dark Souls, including hulking bosses, an intriguing story arc with layered lore, and brutal survival combat. FromSoftware is also blending the distinct third-person action combat and customization the Armored Core series is known for, including a staggering array of swappable mech parts and gear.
This isn't the first time we've heard about this project. In 2016, FromSoftware confirmed it was making a new Armored Core game.
FromSoftware's current project, Elden Ring, has been in development since Dark Souls III shipped and will release on February 22, 2022 on PS4, PS5, Xbox One, Xbox Series X/S and PC.
Check below for a transcription of the reported Armored Core leak:
Melange, an unknown substance that could dramatically advance human society. In the past, this substance caused a cosmic catastrophe on planet Bashtar that engufled the surrounding star systems, and eventually its very existence was lost.

Decades later, the Melange reaction was confirmed again on planet Bashtar. In search of the unknown substance that should have been lost, various speculations begin to swirl. Various parties are getting involved; the government, corporations, cultists, and unknown mercenaries...The protagonist is one of them.

The game is a TPS (third-person shooter) mecha action title that lets you move around an overwhelming scaled map that represents a unique sci-fi world with dynamic mech action. You will face strong enemies and fierce battles both long and short range using guns and blades.

The Sci-fi world created by Hidetaka Miyazaki - FromSoftware's unique and deep sci-fi worldview and multi-layered story. Set on the planet Bashtar, a sci-fir world devastated by a planet-wide disaster, with an overwhelming sense of scale that only mecha can provide.
A vast field that represents a multi-layered world - In a massive and three-dimensional map, you can feel the scale of the mecha universe. A wide variety of maps offer an array of challenging enemies and carefully crafted situations that are worth takinig on again and again.
Feel the tension in long and short range battles - This game offers not only long-range combat with guns, but also short-range combat elements such as blade and shield, that add a sense of urgency to gameplay. Deecide between offensive or defensive tactics during tense and challenging battles against powerful enemies.
Three-dimensional, dynamic action- The game's dynamic, three-dimensional movement is something no huhman can imitate. You can move freely around the vast map with the unique mobility of a mech.
High degree of freedom in customization - Reconfigure body parts and weapons in order to upgrade your mech. With a high level of customization, you can build a mech to suit your play style; from a build that focuses on close-range combat and mobility, or a build that emphasizes firepower to wipe out swarms of enemies at once.
Related Tags