Diablo, Warcraft, and Overwatch to get their own Warzone ecosystems
Activision-Blizzard confirms it will adapt all of its major franchises with their own Warzone-like business model ecosystems.

Published Feb 12, 2021 12:34 PM CST
|
Updated Sat, Mar 20 2021 9:06 PM CDT
Warzone is the most transformative thing Activision has ever done. The free-to-play mode connects premium Call of Duty games with a cross-progression, cross-play, and a cross-SKU framework complete with in-game microtransactions. This model will carry over to all Activision-Blizzard franchises, especially big IPs like Diablo, Warcraft, and Overwatch.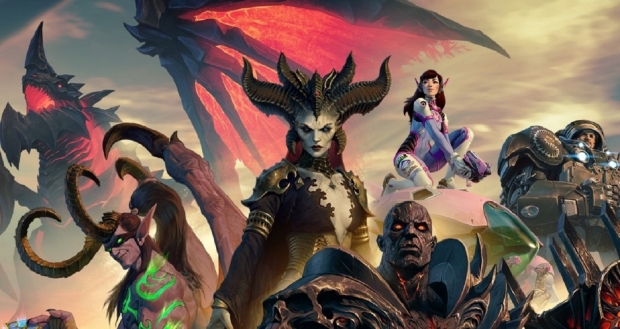 Blizzard games are about to change and expand even more. Activision has doubled-down on its new four-part plan: new games, engagement models, monetization/live services, mobile ports. This plan will be adapted into all Activision-Blizzard franchises. This means every big franchise from Call of Duty, Diablo, Warcraft, and Overwatch will all get mobile games and new engagement hooks. Right now, no hook is sharper than Warzone--the F2P sensation has helped double CoD revenues and hit $3.9 billion in annual IP revenues.
In its recent Q4'20 earnings call, Activision confirmed that Warzone's cross-game ecosystem will be adapted into other mainline IPs. Expect to see Diablo, Warcraft, and especially Overwatch get its own Warzone-esque model. The specifics will probably vary on each game--Diablo Immortal could tie into Diablo IV with exclusive items, for example--but the underlying core will be the same: Establish multiple access points that all meld together and have their own ways of making money.
Read Also: Activision made $4.8 billion from mTX in 2020, 57% of revenues
Here's an example of what it could look like:
Diablo
Diablo Immortal (mobile)

Diablo IV (premium game on consoles + PC)

Diablo Heroes (F2P on consoles + PC)
Overwatch
Overwatch Go (mobile)

Overwatch 2 (premium game on consoles + PC)

Overwatch 1 (F2P on consoles + PC)
Warcraft
Warcraft RTS (mobile, with crossover items in WoW?)

World of Warcraft (premium expansions on PC)

Warcraft Heroes (F2P on consoles + PC)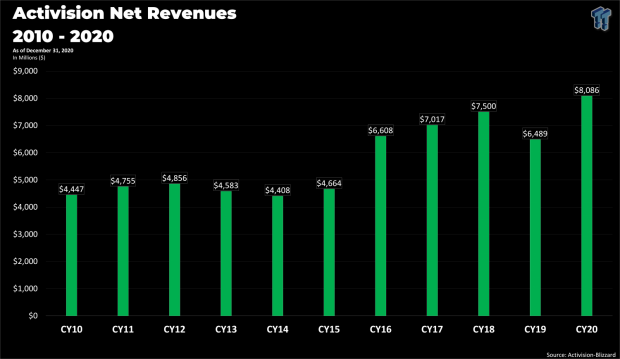 Activision-Blizzard's main goal is to get 1 billion active players in its games. Multiple F2P access points on consoles, PC, and mobile are critical parts of this plan. So far, Warzone's model has helped Activision generate more money than it ever has before--in 2020, it earned over $8 billion, a new all-time record high.
Here's what Activision-Blizzard CEO Bobby Kotick said in the call:
"We've really only just started to scratch the surface of what's possible for social interaction within our franchises and we have initiatives underway to enhance the social nature of all of our key franchises. Call of Duty is also established a clear blueprint for franchise based innovation and we're applying this strategy across our other core franchises to grow reach, engagement and player investment.

"As I mentioned, we had roughly 400 million monthly active players in 2020, and we're accelerating our path to reach 1 billion players as we apply the Call of Duty framework across our other wholly owned franchises. Of course, we always begin to process with inspiration and creativity. We then offer great game play through free to play access to all consumers, availability on mobile phones and continuous regular delivery of in-game content and premium content.

"2022 should see even more significant growth given our planned release of new content across multiple platforms. We are confident that executing against our plans will allow us to realize the full potential of our portfolio of fully owned intellectual property and deliver superior shareholder returns as we have for three decades.
Related Tags