Gary over at AnandTech has
posted a review
of Western Digital's updated and very famous 74GB Raptor hard drive.
The new revision is WD740ADFD and packs some modified technology inside to improve performance.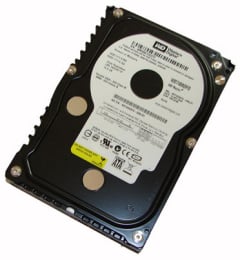 Our experiences to date with the Western Digital WD740ADFD have been terrific. The recent updates to the drive have brought it into the same performance sector as the larger WD1500ADFD drive. We found the overall write performance and sustained transfer rates to be excellent and class leading in our test results. The drive even has improved thermal and acoustic characteristics over the other Raptors, although it's certainly not competitive with other drives. Of course those drives do not have to contend with 10,000 RPM spindle speeds and firmware that is generally designed to extract the greatest amount of performance.

The WD740ADFD is not without faults. The obvious issue for most users is the capacity of the drive. Considering the rampant increase in storage requirements for games, operating systems, and video/audio needs, 74GB can start feeling cramped in a hurry. The other issue is price. The drive is currently selling for around $140 with rebate where the WD1500ADFD with twice the capacity can be had for $190 with rebate. In these terms, the 150GB Raptor is a much better buy. Even then, you are paying a large premium for performance, though the performance improvement is noticeable in both objective and subjective terms.