The Switch is coming to mainland China on December 10, and Nintendo stands to make a killing in the region.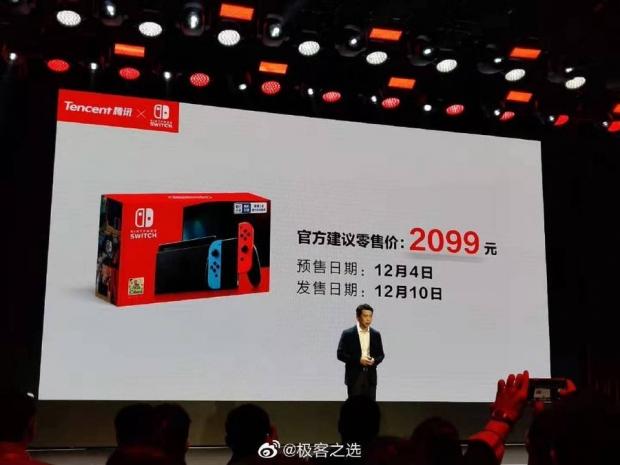 Nintendo just won the jackpot. In association with Tencent, Nintendo will release its Switch handheld-console hybrid in China for RMB 2,099 (roughly $300) this December with a single localized first-party game, Super Mario Bros. U Deluxe. Other titles like Mario Kart 8 Deluxe and Super Mario Odyssey are coming in 2020. Game cards will also be region free.
The infrastructure will be hosted by Tencent's flexible and powerful servers, including WeChat social media integration. Major AAA publishers like Konami, Square Enix, Bandai Namco, and SEGA have pledged to localize their games for the Chinese Switch platform. The newer 16nm Tegra X1 refresh SKU will launch in China, and there's no word on a Switch Lite release.
The launch in China is absolutely huge for Nintendo. The Switch currently sits at a healthy 41 million sales worldwide, and analysts estimate the system sold 9.5 million units during Black Friday.
That number could jump tremendously as the Switch enters the Chinese market during the critical holiday season. More importantly, software is set to jump too. Gamers buy Nintendo hardware to play Nintendo games--75% of all Switch game purchases are first-party titles--and Nintendo should also see a big spike in Switch Online subscriptions.
Remember, subscriptions and software is where platform-holders make most of their money.
China is gaming's biggest global region, consistently earning tens of billions every year from monetization and purchases. Newzoo expects China to rake in $35.6 billion in games revenue in 2019. Just about everyone in the industry has teamed up with Tencent to localize their games for the region, and Nintendo is no different.
I absolutely can't wait to see how this impacts Nintendo's total year earnings.