Americans clearly hate Tesla's Cybertruck more than they love it
New data indicates that American's hate Tesla's cybertruck more than they love it.

Published Tue, Nov 26 2019 3:42 AM CST
|
Updated Tue, Nov 3 2020 11:46 AM CST
Tesla's newly announced cybertruck has divided truck lovers everywhere with its peculiar looking design. But do more people hate it more than love it?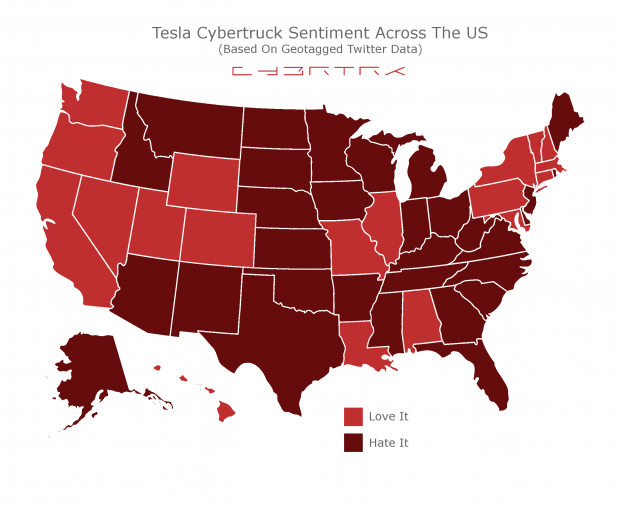 The above map is based on geotagged Twitter data that has been scraped over the past 12 hours. The data was accumulated through tracking over 100,000 tweets on the hashtag #cybertruck. Within those tweets, the phrases; I hate it, I love it, I hate the design, I love the design, ugly and awesome were also tracked.
From those statistics partcatalog put together the above map, giving a visual representation of how each of the states feels about Tesla's cybertruck. From the map, we can see that the feels are pretty divided, with 19 states loving it and 31 states absolutely hating it. The map also indicates that there is a regional component at play as well, with the West Coast and Northeast hating it the most.
Not too long ago a similar map was drawn up and that indicated that an American's dream car was clearly a Tesla Model S, and not a Lamborghini, more on that here.
Related Tags