Ubisoft to launch 9 big AAA games on next-gen PS5, Project Scarlett
Ubisoft plans to release a ton of new games on next-gen consoles.
Published Nov 1, 2019 7:24 AM CDT
|
Updated Tue, Nov 3 2020 11:46 AM CST
3 minutes & 30 seconds read time
Ubisoft plans to release up to 9 AAA games in the next two fiscal years, including Watch Dogs 3, a new Assassin's Creed game, and possibly even Far Cry 6. All of them should be optimized to push the PlayStation 5 and Project Scarlett next-gen consoles to their limits.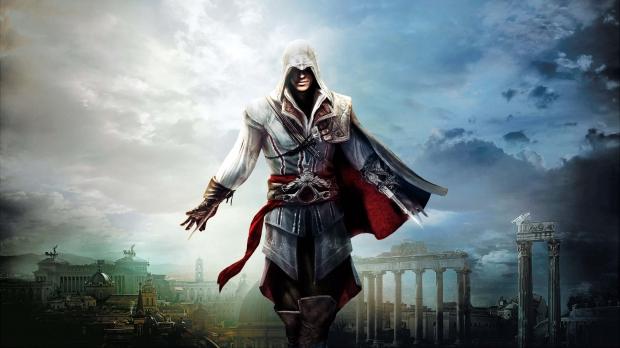 Like Electronic Arts and Capcom, Ubisoft is betting big on next-gen consoles with a huge slate of new games.
In its recent Q2'19 earnings call, Ubisoft confirmed an ambitious new line of titles. The company wants to launch as many as 9 big games throughout the next few years. This new slate will be broken up across two fiscal year timelines: 5 new AAA games in FY2021 (April 1, 2020 - March 31, 2021) and 3-4 AAA games in FY2022 (April 2021 - March 31, 2022).
We already know of at least 4 out of the 9 mystery games, and some of them have confirmed launch windows.
Ubisoft just delayed Watch Dogs Legion, Rainbow Six: Quarantine, and Gods and Monsters to release in Q2-Q3 of FY2021. Since the games will release around the same time as next-gen consoles, Ubisoft says all of these games will be enhanced on PS5 and Project Scarlett.
That leaves two major AAA games left on the FY2021 slate. Ubisoft says these two mystery games will be "new games in our biggest franchises," and it doesn't get any bigger than Assassin's Creed.
We recently posited the new Viking-themed Assassin's Creed could be a next-gen launch game that releases sometime in December. The game has been in the works for a while now and takes place in the Viking era, possibly during Charlemagne's reign. Since AC Odyssey released in 2018, we're due for another Assassin's Creed soon.
Ubisoft also says it wants to release big games when next-gen consoles launch. The company did the same thing with Assassin's Creed IV on PlayStation 4 and Xbox One.
"What is important when you come early on next-gen consoles, you can sell your games for a long time. So we are very happy to be close to the launch of those consoles because it's going to benefit from all the games we launch. It doesn't mean we won't also be happy to have games coming in FY2022 that will have more console installs," Ubisoft CEO Yves Guillemot said in a recent Q2'19 earnings call.
(Continued below)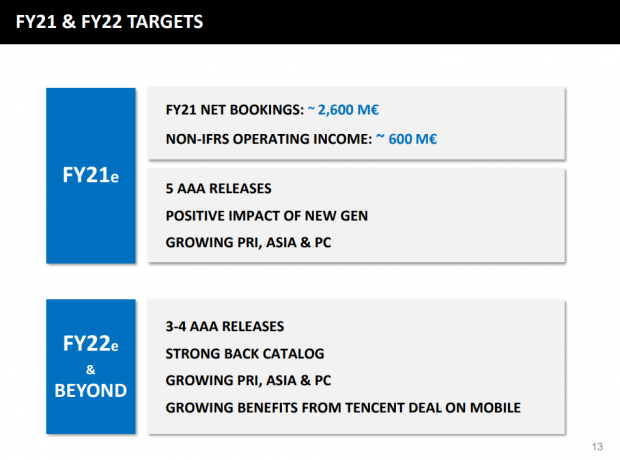 Ubisoft is releasing so many games in FY2021 to bounce back from an earnings hit. Ubisoft is also hitting a live service wall with The Division 2 and Ghost Recon Breakpoint, so the publisher delayed three games to ensure they launch with adequate content.
Delaying those three games means the company will earn a lot less money this year, but the idea is to release a salvo of high-end games for enthusiast-grade consoles to make up for it.
Here's what we could see in Ubisoft's FY2021:
Watch Dogs: Legion

Rainbow Six: Quarantine

Gods and Monsters

Vikings Assassin's Creed
Skull and Bones won't be included in FY2021 either, so it's pushed to FY2022.
As for what's coming in FY2022, Ubisoft says it'll release between 3-4 games in this period, and here are some guesses:
Beyond Good and Evil 2

For Honor 2

Skull and Bones

Far Cry 6
Remember Ubisoft wants to capitalize on big franchises and the next-gen launch is a critical window. It's not like EA who can rely on annualized sports games for revenues. Even with Rainbow Six: Siege's huge success, it still has to release new games. New games not only provide sales, but are also windows to long-term monetization, which is something Ubisoft banks on.
That being said, bigger online-only games like Beyond Good and Evil 2 could still release later on and make a good splash in the next-gen market.
While we don't know the full release slate of games, there's one thing we 100% know for sure: All of them will be monetized in some way, whether it be microtransactions, convenience items, or battle passes.
Related Tags