NASA gets festive: posts photo of the sun as a flaming jack-o'-lantern
NASA shows the sun looking like a huge flaming jack-o'-lantern just in time for Halloween.

Published Wed, Oct 30 2019 10:51 PM CDT
|
Updated Tue, Nov 3 2020 11:46 AM CST
NASA has gotten into the festive spirit with Halloween in the coming hours, posting a photo to the official NASA pages on Facebook and Twitter of the sun looking like a gigantic flaming jack-o'-lantern.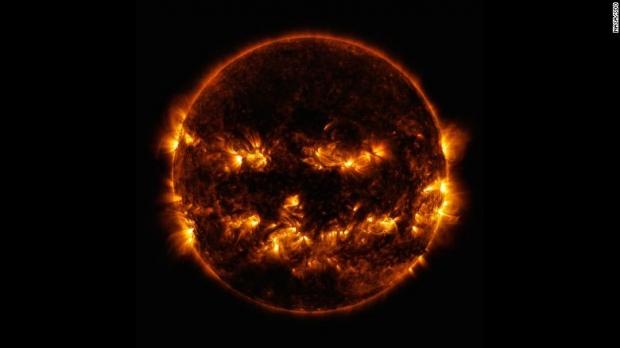 The reasoning behind the Halloween-themed photo of our star is that NASA's Solar Dynamics Observatory (SDO) snapped the shot on October 8, 2014 -- with active regions of the sun at the top in a long line, and bottom two separate but similarly sized lines. When flipped upside down, resembles a face -- and more particularly, a jack-o'-lantern. It's pretty cool, or rather it's pretty hot.
NASA explained: "They are markers of an intense and complex set of magnetic fields hovering in the sun's atmosphere, the corona. This image blends together two sets of extreme ultraviolet wavelengths at 171 and 193 Angstroms, typically colorized in gold and yellow, to create a particularly Halloween-like appearance".
You can grab a high resolution version of the photo from here, with NASA saying the photo is "just in time for Halloween".
Related Tags