Leaked PS5 devkit photo stylized in 3D renders
Leaked real-life PS5 devkit photos get stylized as 3D renders.

Published Sun, Oct 20 2019 12:40 PM CDT
|
Updated Tue, Nov 3 2020 11:46 AM CST
A bit ago a leaked photo showed off the PlayStation 5 devkit's design, confirming the original V-shaped patent sketch was authentic. Now some digital renders capture the that design in 3D form.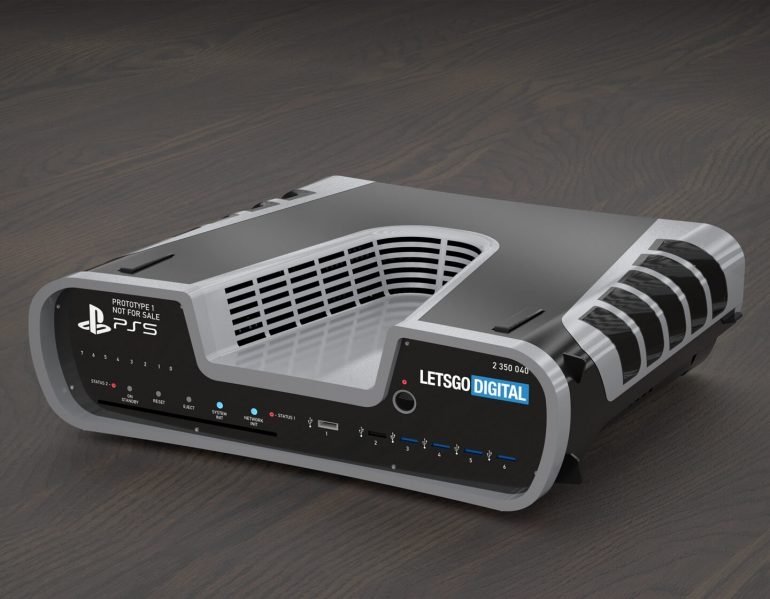 The renders come from LetsGoDigital and are stylized digital recreations of the actual physical PS5 development kit, complete with the manta ray color scheme, front-facing buttons and USB ports, and distinct ventilation.
Leaked PS5 devkit on the left, 3D render on the right.
The design is still pretty striking, but we shouldn't expect the final PlayStation 5 to look like this. Final consumer-facing products are almost always different than their respective devkits, except of course for the Xbox One X.
Devkits are built specifically to push the system's internal hardware--in this case a high-end AMD SoC outfitted with a powerful Navi GPU and an 8-core, 16 thread Zen 2 CPU--well past its limits and stress test the system's full capabilities. Developers are encouraged to basically break the system under extreme load to see what it can do, hence the crazy ventilation system and tapered chassis that's built specifically for heat regulation.
As devs refine their games and learn how to best optimize the hardware, and give real-time feedback to Sony, the PS5's design will change and morph. But until then it's important to have as much cooling as possible especially when dealing with GPU-intensive tech features like ray tracing, native 4K (and maybe even 8K) gaming, high frame rates, and a dearth of environmental, lighting, and physics effects.
Also it begs to question...is this the devkit for the PlayStation 5 Pro, or the base PS5? Or do they both use the same devkit and the base PS5 model is simply scaled down some, maybe sans the super-fast PCIe 4.0 SSD?
Read Also: Exclusive: PlayStation 5 launching in December 2020
This system design is also great for stress-testing older legacy PlayStation games on the new hardware, namely PS4 games. Sony confirmed the PS5 will natively play PS4 games, but it might also play every generation from PS1, PS2, and even PS3 onward. The idea is to have as much headroom to see what kinds of horsepower is needed to not only run PS5 games, but older PS4 games enhanced for the system.
The PS5 devkits are also made to stack onto each other and can apparently be flipped to run upside-down for utility and easy access to the console's disc drive, which will play BD-XL Blu-ray discs that hold up to 100GB of data.
Sony is expected to reveal the PS5 in a special event in February 2020. The console will release in Holiday 2020, and sources tell TweakTown the PS5 will launch sometime in December 2020.
Check below for more info:
PlayStation 5 specs and details:
Custom SoC with second-gen Navi GPU, Zen 2 8-core, 16 thread CPU

Navi, Zen SoC uses new AMD RDNA 2.0 architecture

Sources: December 2020 release date

Ultra-fast SSD (likely via PCIe 4.0)

Support for 4K 120 Hz TVs

Ray-tracing enabled

8K graphics support (probably video, not gaming)

Plays all PS4 games

Separate games that ship on BD-XL Blu-ray discs

New controller with extensive haptic and tactile feedback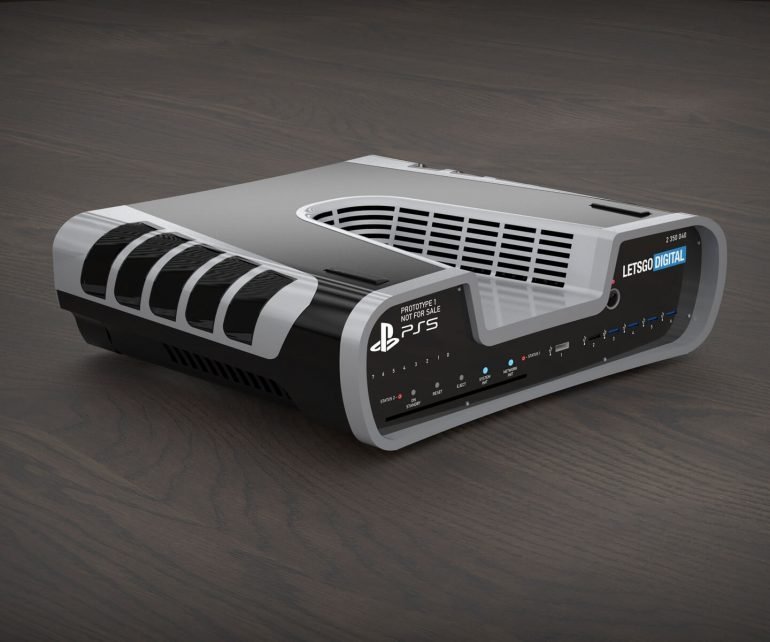 Related Tags