Blizzard explains reluctance in bringing Overwatch to Switch
Blizzard's Overwatch team now believes in the Nintendo Switch.
Published Oct 15, 2019 9:18 AM CDT
|
Updated Tue, Nov 3 2020 11:46 AM CST
1 minute & 53 seconds read time
At first Blizzard wrote off the Nintendo Switch, but with Diablo III the studio became a believer. And now the Overwatch team has fully embraced the platform thanks to its surprising versatility.
Overwatch is coming to Switch as a digital-only game. With over 36 million units sold, the Switch is hard to ignore, and remains a lucrative re-release and remaster platform. Although that wasn't always the case, and some devs like Blizzard shrugged the system off for a while. But Blizzard's decision isn't all about the Switch's install base--the platform has some distinct advantages, like transforming to and from a console to a handheld.
Now Blizzard's Overwatch team discusses why they've changed their minds on the Switch. For one, they can monetize players on-the-go thanks to the Switch's portability. And two, they can utilize extras like intuitive gyroscopic motion controls for immersive aiming when playing portably or docked at home.
"One of the reasons that we're a little late to the game in bringing the game to the Switch is because we initially had that reluctance of 'everything's not going to look exactly the same as it does on the PC.' Once you get over the hurdle, that's okay because there's so many advantages of this other platform that it's not all about visual things," Jeff Kaplan said in a recent interview.
Although Blizzard didn't actually develop the Overwatch port on Switch (Iron Galaxy, the team behind Diablo III's Switch port, handled it), the devs had a lot to do with the project. The idea was to make it look and feel authentic while capitalizing on the Switch's advantages...and to make sure it didn't absolutely crash.
Running on Switch does have its limitations, though. The system's lower-end specs mean performance trade offs. In this case, Overwatch runs at 30FPS on Switch with resolution scaling built-in.
"We do have dynamic resolution scaling. As we were working on it we were making out headroom for the gameplay, so that was some of the marks we were looking at for optimization targets," said Wes Yanagi, principal game producer.
Overwatch releases on Nintendo Switch tomorrow, October 15. It'll be a digital-only game even if you buy it in stores--the box is empty and no cartridge is included.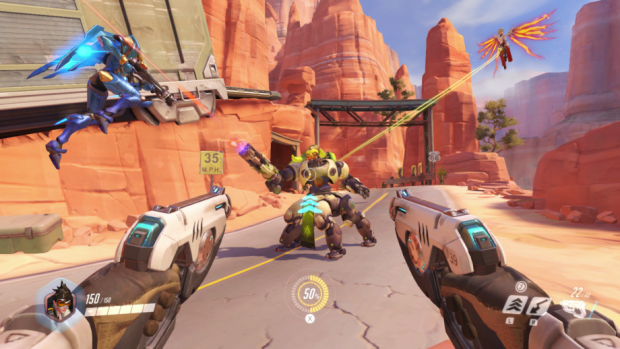 Related Tags