Call of Duty pro tournaments will be played on PS4, not PC
Activision might've chosen money over optimum platform performance.

Published Sun, Oct 13 2019 9:21 AM CDT
|
Updated Tue, Nov 3 2020 11:46 AM CST
Likely as part of Activision's big marketing deal with Sony, the new Call of Duty League will hold its tournaments on PS4 consoles instead of PC.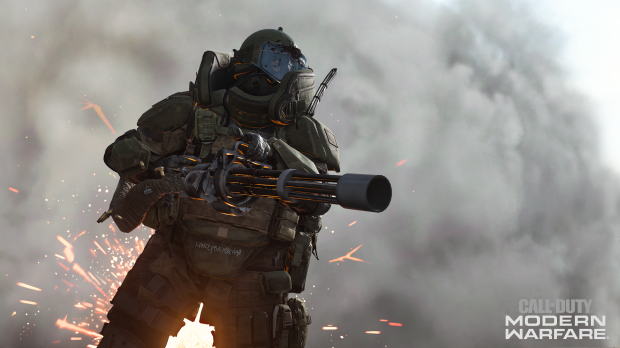 Activision's new Call of Duty League follows the Overwatch League as the company's latest attempt to re-capitalize on a billion-dollar franchise. It's a huge new endeavor that could rake in millions from licenses, marketing deals, sponsorships, merchandise, and ticket sales in a whirwind of sporting event moneymaking. So it's no surprise that Activision has teamed up with the world's most dominant console platform for its new Call of Duty league.
The Call of Duty League sees 12 teams of pro players competing in the new Modern Warfare reboot for a huge $6 million prize pool. But the best of the best won't use enthusiast-grade PC hardware for their high-stakes matches--instead they'll be stuck with the PlayStation 4 Pro and its limited performance. Activision is apparently putting lucrative deals over choosing the ideal platform for pro tournament play.
Activision confirmed the news:
"The Call of Duty League is a global, city-based esports league composed of 12 professional teams, representing 11 markets across North America and Europe. In its inaugural season, pro teams compete in 5-versus-5 Call of Duty: Modern Warfare multiplayer matches, exclusively on PlayStation 4.
"The professional competition will travel from city to city, featuring the best Call of Duty esports players from around the globe battling for over $6 Million and the ultimate prize: The Call of Duty League Championship."
Activision probably inked this deal with Sony even before the Call of Duty League was announced, and was likely a part of its marketing deal with Sony, which sees Call of Duty Modern Warfare's Spec Ops Survival mode locked exclusively on PS4.
Esports integration has long been part of Activision-Blizzard's plan, and even more-so now. The Call of Duty League has been years in the making.
The company went through a huge restructuring phase focused strongly on making even more money, and one of the main ways it plans to do so is with "new engagement models." Esports of course is part of this plan and folds perfectly into its billion-dollar empire of live services and microtransactions.
In fact, making new games is only one-fourth of Activision's game plan now. The others are live services, mobile ports, and engagement, all of which synergize into one another thanks to its penchant for grindy online titles.
Once it's established, the Call of Duty League will likely be a juggernaut that compliments the yearly franchise with even more buzz, excitement, and engagement, propelling the series to astronomical heights.
The first game in the CoD League will debut sometime in 2020.
Here's a list of the team cities:
ATLANTA

CHICAGO

DALLAS

FLORIDA

LONDON

LOS ANGELES (KSE)

LOS ANGELES (IGC)

MINNESOTA

NEW YORK

PARIS

SEATTLE

TORONTO
Related Tags