Apex Legends Season 3: Crypto gameplay footage changes everything
It looks like Crypto's drone and Ultimate ability (an EMP) will change Apex Legends in all the right ways.

Published Mon, Sep 30 2019 9:19 PM CDT
|
Updated Tue, Nov 3 2020 11:47 AM CST
Apex Legends is about to have its meta completely flipped upside down with the latest hero Crypto, with EA flying out a bunch of content creators to LA recently to play around with the new character, new map in World's Edge, and Season 3 as a whole.
IGN actually had someone competent with Apex Legends playing in the video above, with 6 hours of hands-on experience with Crypto and Season 3 of Apex Legends. Crypto's new abilities are broken down and explained in IGN's piece, with the aerial drone set to change the game and make Crypto a valuable player to any 3-man squad.
Crypto's drone can be flung out and flown by pressing Q as his tactical ability, which will then be controlled by you and your character in the game stays stationary. So you better be hiding when you are playing Crypto and use your drone, which will hover in the air when it's not being used and will passively spot enemies for you and your teammates.
The range of Crypto's drone is "tremendous" but if you leave the range of the drone then it can't be recalled. Crypto players will have an indicator on the bottom of the screen that will keep them up to date with how far away their drone is, and by simply pressing H you can recall it -- but as long as you're in range you can go into the drone and start flying it around.
Crypto's passive ability is his Neuro link, which is a Bloodhound-like ability that sees the drone outline enemies in orange. This is great for your team mates in the middle of a battle, as you'll see your enemies through smoke or even through objects. Once Crypto's drone has spotted an enemy, team mates will see it in their HUD.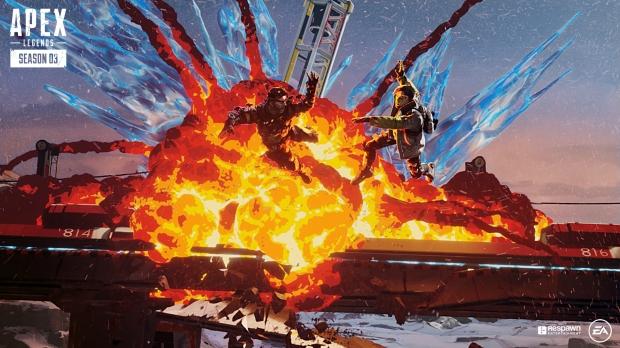 But it's Crypto's ultimate ability that will be a huge game changer -- an EMP. Crypto's drone has an EMP build into it, which will need to charge up before its devastating blow. The EMP will throw out 50 damage to shields, slows players down, and destroys any traps in its radius.
The drone isn't invincible, and can be shot out of the sky with "one or two shots" from virtually any gun. If you see it in the sky or hear it buzzing around near you, you're going to want to locate it and take it out of the sky ASAP.
Season 3 of Apex Legends -- which is known as Meltdown, launches on October 1. It will feature the new character Crypto, a new gun in the Charge Rifle, and an exciting new map in World's Edge. There will be a plethora of other skins in Season 3, which I'm sure we'll be detailing in the coming days.
Related Tags