Sea of Thieves cosmetic microtransaction store is now live
Avast ye! Rare flicks on Sea of Thieves' microtransaction switch.

Published Sat, Sep 14 2019 12:39 PM CDT
|
Updated Tue, Nov 3 2020 11:47 AM CST
Sea of Thieves wasn't monetized at launch, but it sure is monetized now. Rare introduces the live game's cosmetic microtransaction storefront and lets gamers buy currency with real-world cash.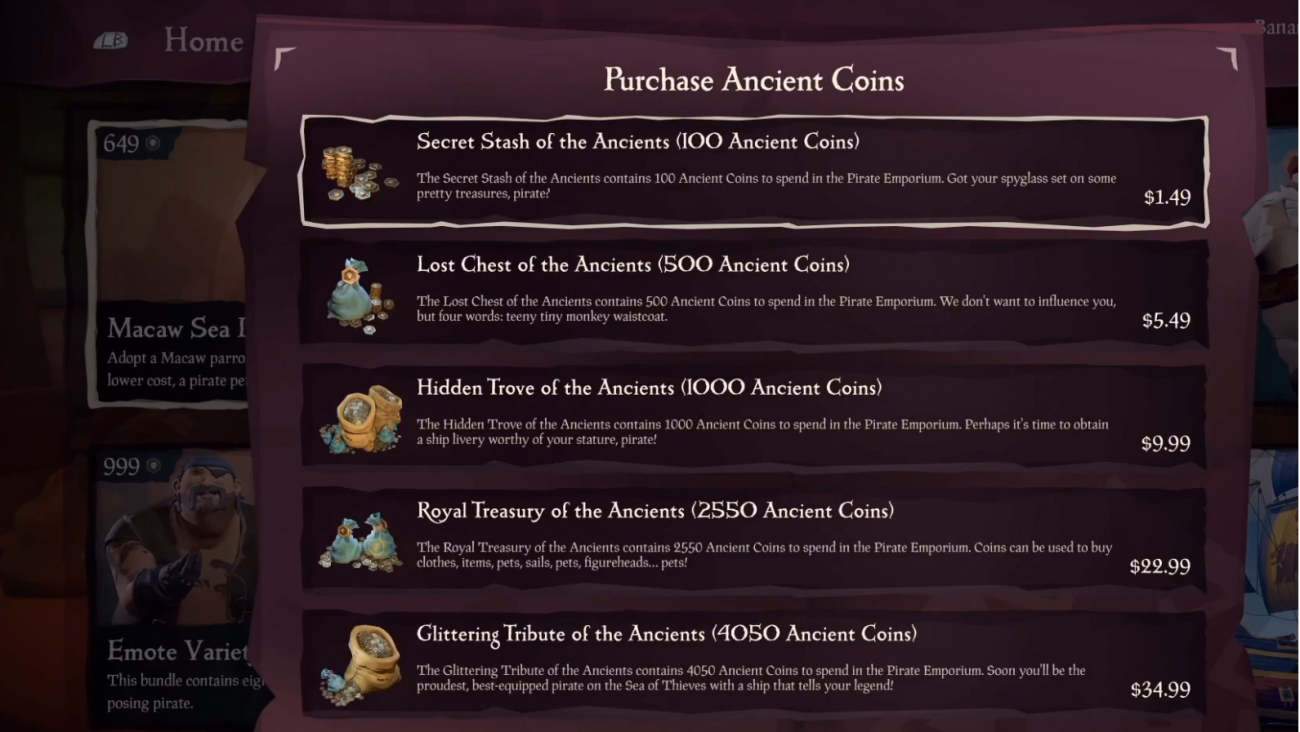 Rare is the sight when a first-party Microsoft game doesn't ship with microtransactions, but they'll always find a way in somehow. With the Pirate's Emporium storefront, Sea of Thieves is now monetized and peddles numerous cosmetic wares like ship skins, pet outfits, and emotes. The pricing is anything but micro though: there's a $10 emote pack, a $6 pet skin, and a $22 ship paint job. A single ship cosmetic costs more than The Witcher 3's Blood and Wine expansion at launch.
The inclusion of cosmetics isn't surprise. Rare told players Sea of Thieves would eventually have microtransactions farther in the game's lifecycle. The devs took a while to figure out the best way to monetize the game while gathering feedback from players, but it seems like they're just doing the same thing as every other game today: dropping lootboxes and making a straightforward cosmetic store.
Read Also: Monkey pukes, craps on Sea of Thieves dev during live stream
As we've said before and we'll say again: Microsoft loves live services, engagement, and recurring revenue via mTX. It's a huge part of its Xbox business and it won't change any time soon. All of the company's biggest games will have some sort of online hook complete with in-game spending opportunities. Gears 5 has it, Halo 6 will have it, and its other games will have it.
The only games that may not be monetized like this are the new AA titles made by newly acquired studios like Obsidian, inXile, and Ninja Theory.
Players can buy Ancient Coins with real money in the following denominations:
100 Ancient Coins - $1.50

500 Ancient Coins - $5.50

1000 Ancient Coins - $10

2550 Ancient Coins - $23

4050 Ancient Coins - $35
Related Tags