Wikipedia co-founder tweets about CANNIBALISM, drinking human blood
Cannabalism, drinking human blood, penis facials... it's all on the table.

Published Mon, Sep 9 2019 7:26 PM CDT
|
Updated Tue, Nov 3 2020 11:47 AM CST
I'm sure we've all had those thoughts -- eating human flesh, drinking human blood, chilling with your friends and that thought pops into your head 'yeah, I think your skin would taste nice'. Except, no normal person does that -- but that doesn't include Wikipedia co-founder Larry Sanger.
Sanger took to his personal Twitter with a poll that asked if people would be "in favor of a law against cannibalism, defined as eating living or deceased human flesh *or* drinking blood". But don't worry, he's not crazy as he addresses that question in a direct follow up tweet saying "in case you think I'm crazy for asking" (the question about cannibalism and drinking human blood).
The follow up tweet provides a link to trade between China and Korea for delivering aborted (and still-born) children to be consumed for "health reasons". The link goes to a Washington Times article that talks about South Korean agents seizing pills made with the flesh of human fetuses manufactured in China.
The weird continues with Sanger tweeting a link to a BBC article reporting on people who drink human blood, otherwise known as "real vampires". Oh, you thought it was over? Nope.
Sanger posted a Vox article covering some "surprising facts about cannibalism, because he "wouldn't want to be judgmental about cannibals".
Another tweet is to a VICE story titled Are Rich People Already Infusing Themselves With Young Blood -- which isn't a lie. Some of the most influential, uber-rich elite use the blood of healthy and young people reportedly live longer.
But this is OK because the rich old people can afford it, and the poor young people are just wanting to get through another day.
He then re-tweets Richard Dawkins' post from March 2018 about the growth of human beat, and whether we could "overcome our taboo against cannibalism". Alrighty. We're getting deep now.
The tweets continue, with Sanger linking to a Breitbart article about three African met being arrested in February 2018 after they attacked a man, biting off parts of his face and eating the flesh.
Just a little deeper now -- with Sanger linking to Sandra Bullock and Cate Blanchett getting "penis facials" -- something that involves securing the foreskin of South Korean newborn boys. I wish I were lying, but I'm not.
I remember seeing this story myself, with Sanger linking to the clip with Bullock on Ellen where she discusses that she does indeed get "penis facials" using grinded-up baby foreskin.
Sanger continues tweeting with a tweet reading "some psychologists seem to say that if you're opposed to eating human, you're not quite rational". Well, call me irrational...
In the end, Sanger says he is "firmly against cannibalism".
He finishes with a final link where a Swedish scientist proposes cannibalism to fight... CLIMATE CHANGE.
I'll leave you with your thoughts now, but please let me know what you think in the comments below.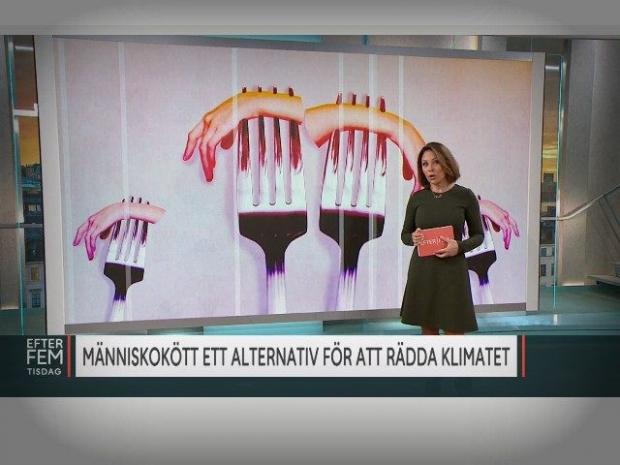 Related Tags