KFC debuts test of non-meat 'miracle' nuggets in Atlanta, Georgia
Kentucky Fried Chicken offers the Kentucky Fried Miracle, its new fake meat nuggets.

Published Aug 26, 2019 8:48 PM CDT
|
Updated Tue, Nov 3 2020 11:47 AM CST
Kentucky Fried Chicken has just unveiled something I don't think anyone would've predicted when the colonel began his world domination through the secret herbs and spices in 1952 -- meat-free nuggets.
The company is using Beyond Meat, which are plant-based fake meat nuggets -- with KFC testing out the new 'Kentucky Fried Miracle' in Atlanta, Georgia. The thing is that plant-based meat alternatives aren't anything new, but Kentucky Fried Chicken throwing its hat into the ring is a big deal with other giants in Burger King, Carl's Jr, and Del Taco all offering plant-based meats from either Beyond Meats, or their competitor Impossible Foods.
KFC will cook the fake meat in the same fryers used to cook the normal chicken, so it is not absolutely, completely meat-free. It's being cooked in the same oil as the meat, so I guess there will be some form of chicken floating onto the plant-based meat... right?
The finger lickin' good plant-based fried chicken, with Beyond Meat and KFC debuting a one-restaurant test at the Cobb Parkway KFC restaurant near SunTrust Park in Atlanta (2637 Cobb Pkwy South East, Smyrna, Ga.). Beyond Meat explains: "Lucky customers can choose between nuggets, perfect for dipping, or boneless wings, tossed in their choice of three delicious mouthwatering sauces: Nashville Hot, Buffalo or Honey BBQ".
Beyond Meat and KFC will be offering up the very first public taste test of its Kentucky Fried Miracle at the Cobb Parkway restaurant on August 27 between 10:30AM and 6:30PM, with a free sample with any KFC menu item purchase.
KFC US president and chief concept officer, Kevin Hochman, explains: "KFC Beyond Fried Chicken is so delicious, our customers will find it difficult to tell that it's plant-based. I think we've all heard 'it tastes like chicken' - well our customers are going to be amazed and say, 'it tastes like Kentucky Fried Chicken!"
Still, an interesting step from KFC with people tweeting in response to KFC: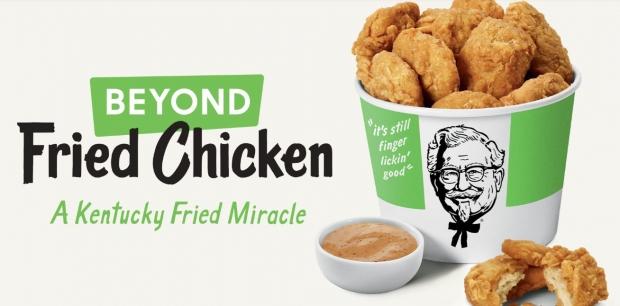 Related Tags