Microsoft redesigns Xbox One dashboard for the 10,000th time
Here we go again.
Published Jul 25, 2019 11:22 AM CDT
|
Updated Tue, Nov 3 2020 11:47 AM CST
1 minute & 58 seconds read time
It seems like Microsoft spends way too much time trying to "streamline" and "optimize" the Xbox One dashboard. Now they're doing it again.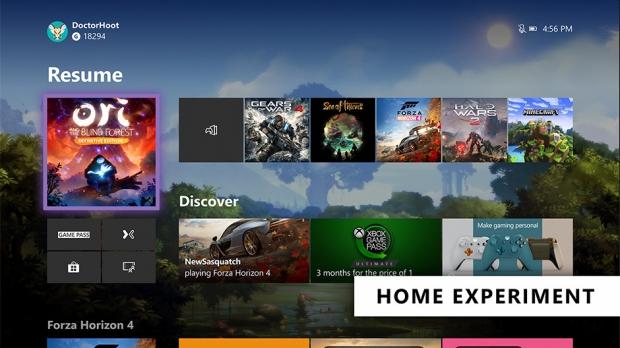 The Xbox One dashboard is weird. At first it was the worst console UI that I've ever seen. Then it slowly got better, but slightly more confusing each time as Microsoft moved and shifted everything around. It seemed like once you got used to something, it changed. Now the tile-based interface is getting updated once again.
Key changes include the removal of Cortana voice-assisted searching and a shift to the home UI. Services are strategically placed on-screen at the home menu to remind you that yes, you can sign up for Game Pass, and the Discover tab is literally more visible than your recently-played games.
"The Home on Xbox One is the first thing you see when you turn on your Xbox One, and we want to deliver an easy and seamless experience for you to navigate your console. We've heard your feedback and have continued to iterate on Home to get you into your gaming experiences faster and keeping more of your content front and center. With today's update, we're experimenting with a streamlined user interface," Microsoft says, while also showing a picture where owned game tiles are smaller than the discovery tab that promotes community play, services, and buyable products.
There's a big reason why this UI is the way it is. Since Xbox is all about online engagement now, the interface is incredibly important as an advertising tool. From overtly obvious sponsored ads for fast food or Panda Express to smaller, more tactical ads for Microsoft's own services, the Xbox UI is specifically designed to promote community, engagement, services, and online purchases.
It's less of a control panel for your games, media and content and more of a constant reminder that you can (and should) buy and play more than already you have.
In a way, Microsoft wants you to get lost. When you're lost you're more likely to discover stuff you might want to buy. There's a reason things aren't straightforward and easy to navigate and it's usually tied to uncovering content and services.
The Xbox UI is a pure reflection of Microsoft's current gaming business model. It thrives from the huge billion-dollar market of engagement, which sees games folded into a cohesive online network interspersed with recurring subscriptions, ads, and community-driven infrastructures to keep gamers playing together. The idea is that the more you play, the more you potentially pay over time.
Related Tags