Forget Cal, Greez is Jedi: Fallen Order's real star
This goofy alien steals the show and deserves his own spin-off.

Published Mon, Jul 8 2019 3:40 PM CDT
|
Updated Tue, Nov 3 2020 11:48 AM CST
Keep your Jedi acrobatics and lightsabers; let me play as this alien who looks like Carl from Aqua Teen Hunger Force.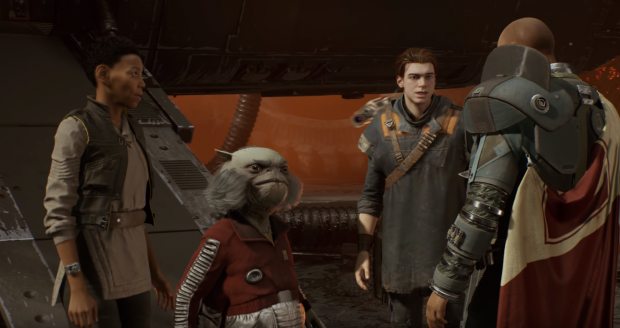 Star Wars never really took itself too seriously. It's known for blending somber Hero's Journey stories with goofy humor, often personified with wacky aliens. Respawn's big new Jedi: Fallen Order game will be no different, and has an awesome alien character that just steals the show. His name's Greez. He's got four arms, he's balding, and just the way he dresses and carries himself makes me think of Carl Brutananadilewski from Aqua Teen.
Recent reports that an alien protagonist would "alienate" Star Wars fans got me thinking about spin-offs starring sidekicks or token characters. What if we got a game where you're not a Jedi, but a scrappy bounty hunter or even a wheeling-and-dealing criminal ship pilot? What if the whole game was centered around a kind of seedy underbelly--wait, I'm just thinking of cancelled Star Wars games like Visceral's Ragtag and Star Wars 1313, aren't I?
Still though, it could work. And Greez is proof of this.
Greez isn't as feisty or obnoxious as Carl, but he could pass as a cousin from another world. He'd even fit perfectly in Spaceballs 2: The Quest for More Money.
Greez has some style too, rocking some old-school astro pants and an Atari-style jacket. He looks like a Men in Black extra-terrestrial from the heart of Brooklyn that'd deliver a snippy one-liner to Will Smith, and kind of like those weird mushroom things in Mom and Dad Saves the World (who remembers that movie?) Greez is the pilot of the game's ship, the Mantis Stinger, and he's just plain awesome.
The most recent Jedi: Fallen Order footage briefly showed off Greez in all of his weird, awkward-but-somehow-awesome glory. We got one line: "How ya doin?" But it instantly showed humans and aliens aren't that different, allowing us to relate to Greez and his goofy confidence. I think everyone knows someone like Greez, maybe it's an uncle who loves disco. Or maybe it's a neighbor who walks around in flip-flops and sweatpants.
Fun fact: Greez was basically inspired by John C. Reilly (of Brules' Rules fame) and Mr. Furley from Three's Company. I'm wondering if Stig Asmussen is an Adult Swim fan too.
I hope we get to see more of Greez in upcoming Jedi: Fallen Order footage. We need some more ridiculousness in Star Wars, and Greez brings it in spades. It shouldn't always be about the epic battle of good and evil, y'know?
Star Wars Jedi: Fallen Order is due out on November 15, 2019 on PS4, Xbox One, and PC.
Check below for more information:
A galaxy-spanning adventure awaits in Star Wars Jedi: Fallen Order™, a new third-person action-adventure title from Respawn Entertainment. This narratively driven, single-player game puts you in the role of a Jedi Padawan who narrowly escaped the purge of Order 66 following the events of Episode 3: Revenge of the Sith. On a quest to rebuild the Jedi Order, you must pick up the pieces of your shattered past to complete your training, develop new powerful Force abilities and master the art of the iconic lightsaber - all while staying one step ahead of the Empire and its deadly Inquisitors.

While mastering your abilities, players will engage in cinematically charged lightsaber and Force combat designed to deliver the kind of intense Star Wars lightsaber battles as seen in the films. Players will need to approach enemies strategically, sizing up strengths and weaknesses while cleverly utilizing your Jedi training to overcome your opponents and solve the mysteries that lay in your path.

Star Wars fans will recognize iconic locations, weapons, gear and enemies while also meeting a roster of fresh characters, locations, creatures, droids and adversaries new to Star Wars. As part of this authentic Star Wars story, fans will delve into a galaxy recently seized by the Empire. As a Jedi hero-turned-fugitive, players will need to fight for survival while exploring the mysteries of a long-extinct civilization all in an effort to rebuild the remnants of the Jedi Order as the Empire seeks to erase the Jedi completely.

KEY FEATURES

Cinematic, Immersive Combat - Jedi: Fallen Order delivers the fantasy of becoming a Jedi through its innovative lightsaber combat system-striking, parrying, dodging-partnered with a suite of powerful Force abilities you'll need to leverage to overcome obstacles that stand in your way. This combat system is intuitive but takes training and practice to fully master its nuances as you gain new powers and abilities along your adventure.
A New Jedi Story Begins - As a former Padawan on the run from the Empire, you must complete your training before Imperial Inquisitors discover your plan to revive the Jedi Order. Aided by a former Jedi Knight, a cantankerous pilot and a fearless droid, you must escape the evil machinations of the Empire in a story-driven adventure. Explore and overcome a wide range of challenges focused on combat, exploration and puzzle-solving.
The Galaxy Awaits - Ancient forests, windswept rock faces and haunted jungles are all unique biomes you'll explore in Jedi: Fallen Order, with the freedom to decide when and where you go next. As you unlock new powers and abilities, opportunities open up to re-traverse maps in new ways; leveraging the Force to augment the way you explore. Move quickly, however, as the Empire is actively hunting your every step in their effort to exterminate all remnants of the Jedi Order.
Related Tags