U.S. to conquer games market in 2019, analyst firm predicts
U.S. to topple China in 2019 games revenues, analyst firm predicts.

Published Sun, Jun 23 2019 5:33 PM CDT
|
Updated Tue, Nov 3 2020 11:48 AM CST
The United States will become the best-earning country in the global games market in 2019, analyst firm Newzoo predicts.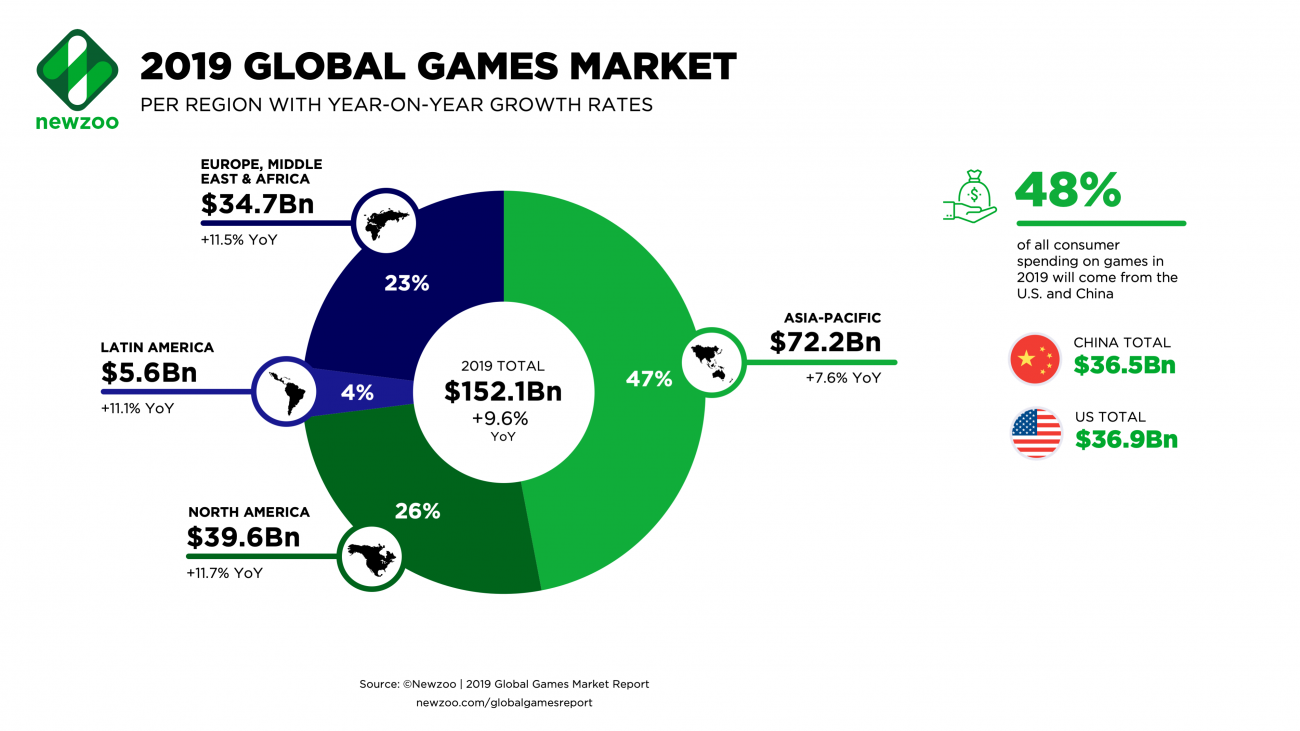 China, which typically reigns in games revenue charts, will soon be usurped by the United States. Analyst firm Newzoo forecasts the U.S. to earn $36.9 billion in 2019, beating China by some $400 million. These figures show a 11% uptick for U.S. earnings and will make up 26% of total global games revenues in the year, compared to China's 24%. The firm says China's recent game approval freeze has stunted growth and will have a major impact on yearly cashflows.
Total global games revenues will rise to $152.1 billion, up a strong 9.6% year-over-year, driven mostly by free-to-play mobile titles with microtransactions.
Mobile gaming, which includes revenues from smartphone and tablet games, will amass a tremendous $68.5 billion in 2019, representing 45% of total yearly earnings. Console gaming comes in second at $47.9 billion, up a strong 13.4% YoY and representing 32% of 2019's revenues. PC gaming will rake in $35.7 billion thanks to consistent growth in the dedicated desktop and laptop segment, which will jump by 6.6% to $32.2 billion.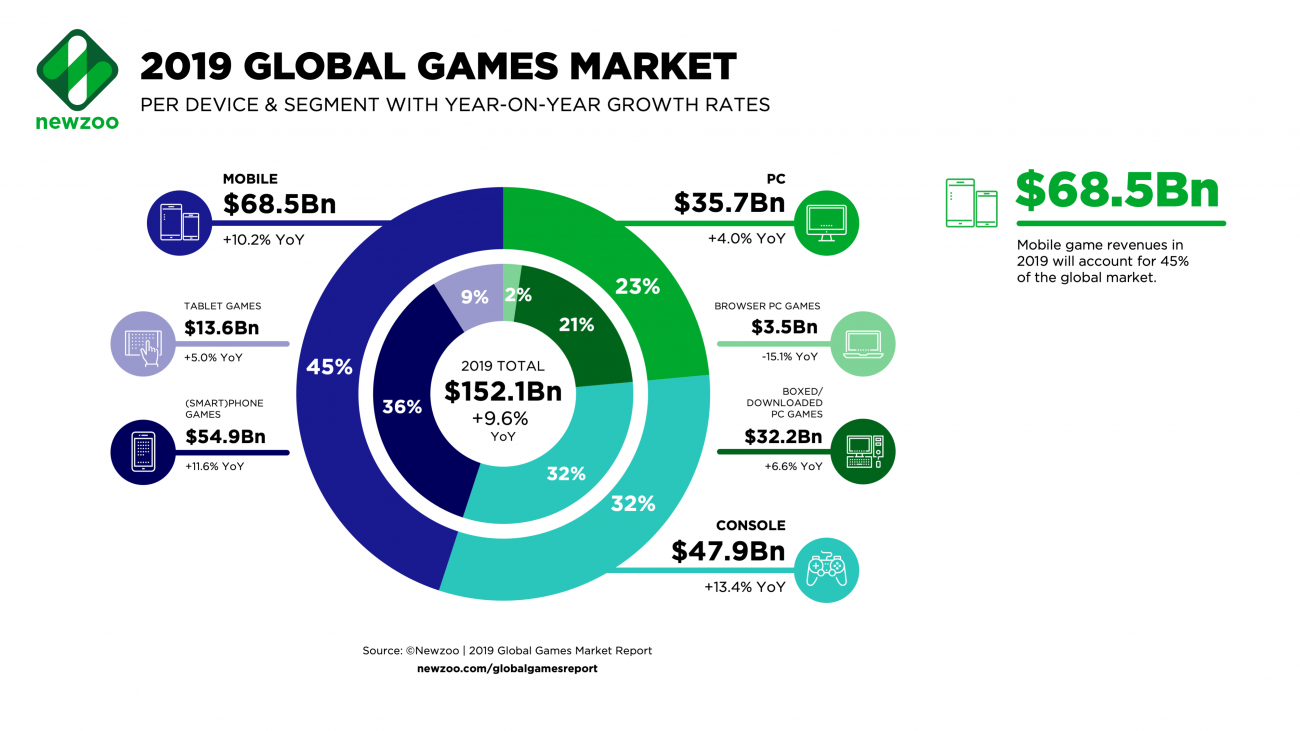 The Asia-Pacific region will still handily beat North America by nearly two-fold, Newzoo says. APAC should pull in $72.2 billion in 2019, up 7.6% and accounting for 47% of the year's total earnings. North America is forecast to make 26% of global revenues.
The report may not take into account the United States' recent scrutiny of lootboxes. A new bill proposed by Missouri Senator Josh Hawley would ban lootboxes in games aimed at minors, which include annualized sports games like FIFA, NBA 2K, and a host of mobile-based games.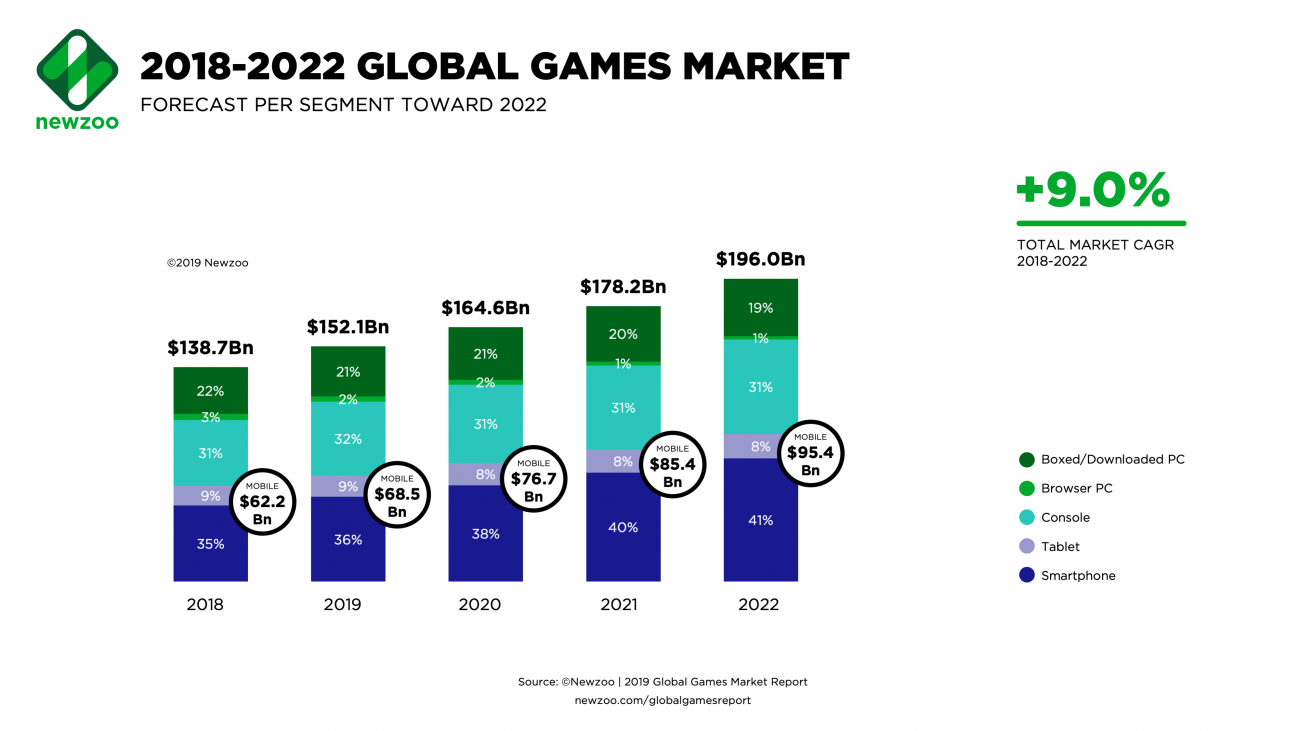 The UK is also taking a closer look into lootboxes.
Despite finding that microtransactions and engagement-driven games don't actually lead to gambling addiction, the UK's Digital, Culture, Media and Sport Committee recently held a meeting with Epic Games and Electronic Arts regarding lootboxes. The meeting didn't go very well for either company, and didn't bring any sort of strong confidence for the self-proclaimed "surprise mechanic."
If these mechanisms are indeed banned, outlawed, or strictly regulated in key countries, the global games revenue market will likely falter and dip considerably. All eyes are on governments around the world as they determine whether or not these lucrative billion-dollar games are indeed psychologically manipulative or addictive.
Related Tags