Stadia is a game-changer for multiplayer, Google says
Stadia will bring games with thousands of players and new kinds of dynamic online worlds, Google says.
Published Jun 16, 2019 7:16 PM CDT
|
Updated Tue, Nov 3 2020 11:48 AM CST
4 minute read time
Google Stadia will benefit multiplayer-driven games the most, especially live service games like Destiny 2 with persistent worlds.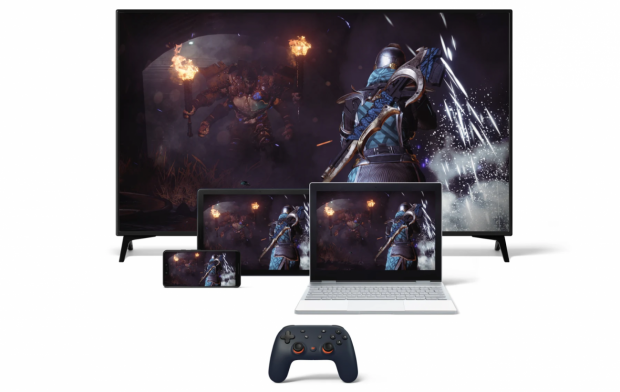 Google's new Stadia game-streaming service could revolutionize gaming forever. It beams higher-end games directly to your TV, phone, laptop or PC for a $10 a month subscription, and alleviates the need to buy expensive gaming hardware. It has some issues too, namely latency and connection requirements, plus you don't get to actually play games if the service ever goes offline. At E3 2019, Google talked up Stadia quite a bit and promised it'll open incredible new horizons for the games industry.
Stadia's flexibility and server power will arm devs with new ways to build multiplayer games, and offer ultra-low latency when specific games are hosted on Google servers.
"One benefit of Stadia that'll become more and more clear over time is when you're running an online multiplayer game in a datacenter, those game instances are within a particular metropolitan area that's a sub-millisecond connection between those game instances. So running multiplayer games on Stadia is a game-changer. I like to say we're building the world's largest LAN party," said Jack Buser, director of games at Google told Giant Bomb.
"This technology will fundamentally change what you can do in a video game. No question."
Buser says Stadia could enable battle royale games with thousands of players, similar to Improbable's new SpatialOS technology. Google connections will bridge Google-owned datacenters together, giving devs a huge webwork of high-speed infrastructures to not only host their games but power them with potent remote server banks.
"It's literally Google-owned proprietary fiber-optic cables connecting all of these datacenters together. So you can imagine games in the future having tons of players. You look at battle royale games, if you push them as hard as you can, you can get about 100-150 players. But with Stadia you could go with thousands of players on the screen running at any given time.
No one's making that game right now because you can't. But with Stadia you absolutely could. Developers are bringing multiplayer games to the platform and immediately see these benefits"
Google could even devote whole banks to a specific game (likely Stadia exclusive) that pushes multiplayer past its current limits. Imagine Destiny 2 where the world is constantly shifting on a global basis for everyone that plays instead of smaller slices of instanced game worlds for each player. It'd be like a more dynamic MMO.
"We have some developers looking at very large multiplayer. So taking all these instances and connecting them together, it's ultra high bandwidth, super low-latency connections. You also have some developers looking at...well okay what happens if I take these machines and literally glue them together into a mega machine to create an ultimate persistent world?"
These are some pretty hefty promises and it remains to be seen if Google can deliver. A lot of Stadia's launch games are multiplayer games, including The Division 2, Ghost Recon: Breakpoint, Destiny 2, Borderlands 3, and The Elder Scrolls Online, but publishers will also bring singleplayer titles to Stadia too. Even if it benefits multiplayer games the most, Stadia is seen as another viable platform to sell games on.
It's less like the Epic Games Store and more like the Nintendo Switch simply because it's a new platform that bridges familiar devices but also doesn't share with the console environment.
Stadia launches later this year in a $10 a month Stadia Pro subscription, and a free version is set to release in 2020 that requires gamers to buy games a la carte.
Check below for more information:
Stadia Launch Games
Baldur's Gate 3

Borderlands 3

Ghost Recon Breakpoint

Watch Dogs Legion

Gods & Monsters

Gylt

Get Packed

The Division 2

The Crew 2

GRID

FM

Power Rangers: Battle for the Grid

Mortal Kombat 11

Farming Simulator 19

The Elder Scrolls Online

Darksiders: Genesis

Trials Rising

Wolfenstein: The New Order

Just Dance 2020

Thumper

Shadow of the Tomb Raider

Dragonball Xenoverse 2

Final Fantasy XV

RAGE 2

Samurai Showdown

Metro Exodus

Assassin's Creed: Odyssey
Stadia Pro: $10 a month
Three months included in Founder's Edition.

Part of Founder's Edition

Resolution: Up to 4K

Frame rate: 60 FPS

Sound: 5.1 surround sound

Buy games whenever you want: Yes

Additional free games released regularly: Yes, starting with Destiny 2: The Collection

Stadia Pro-exclusive discounts on select game purchases: Yes

$9.99 / mo
Stadia Base: FREE
Coming next year

Resolution: Up to 1080p

Frame rate: 60 FPS

Sound: Stereo

Buy games whenever you want: Yes

Additional free games released regularly: No

Stadia Pro-exclusive discounts on select game purchases: No

Free
Stadia Founder's Edition $129
First access to Stadia

Chromecast Ultra

Limited Edition Stadia controller

3 months of Stadia Pro access + 3 months of friend access

Full Destiny 2 experience
Related Tags