E3 2019 - Atari opens up pre-orders for its Atari VCS console across major retailers, and reveals the system's RAM can be upgraded.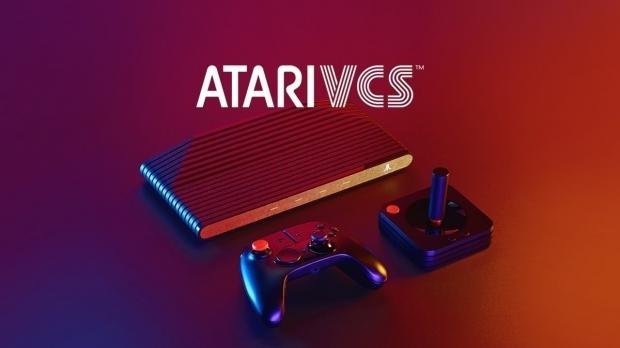 Atari is keen on resurrecting its old-school console brand to the modern age with its new VCS system. It seems like an iffy bet, but the company is taking the VCS quite seriously, packing it with decent specs like a customized 14nm AMD Ryzen APU with dual Zen CPU cores and a Vega GPU for gaming and 4K video playback. The VCS also got upgraded to 8GB of unified DDR4 memory a bit ago, but apparently the system lets you switch out and upgrade memory sticks, hinting RAM isn't soldered onto the VCS' motherboard.
Right now there's two SKUs for the VCS: the $279 Atari VCS 800 model with 8GB of RAM, and the $249 Atari VCS 400 model with 4GB. Since the memory is upgradable, you could buy the cheaper $249 Atar VCS with 4GB of DDR4 and add in another stick yourself. This is a nice modular addition that consoles don't ever embrace--RAM is usually soldered to the motherboard in today's consoles and laptops.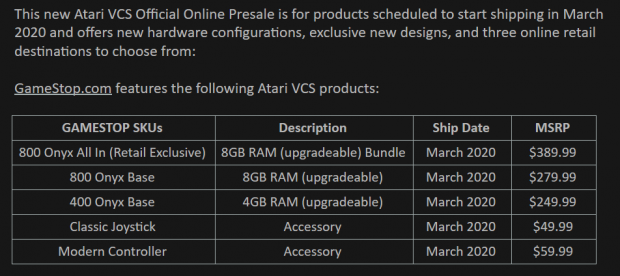 Other major selling points of the Atati VCS include built-in classic Atari games. The system will be able to play today's games at decent quality (we're not 100% sure what kind of perf it'll deliver) and includes a modern wireless controller alongside a classic joystick to simulate old-school 1970's action.
The VCS also acts as a multimedia center for content. It can stream video services like Hulu and Netflix in up to 4K HDR, remotely stream video from your desktop via DLNA connectivity, and also has native multimedia playback via USB ports. It won't have a disc drive, however.
Perhaps the most ambitious part of the VCS is its online store. Atari plans to team up with publishers and developers to host a ton of games on the VCS' storefront and turn the system into a fully-fledged console competitor, complete with first-party re-releases, remasters, and new games.
The Atari VCS is up for pre-order on GameStop and Walmart, and will ship starting in March 2020.
The all-new Atari VCS home gaming and video computer system is aimed at transforming the TV-centric home entertainment experience. At E3 this week, Atari plans to share demos of the Atari VCS dashboard and Sandbox Mode to showcase the power of the AMD tech that powers the VCS.

Users will be introduced to an ever-expanding Atari world of all-new games, classic and remastered favorites, streaming multimedia and personal apps; or can easily make their own. The powerful AMD Ryzen processor featuring Radeon Graphics Technology can handle it all, including 4K HDR streaming, while the all-new Atari Classic Joystick and Atari Modern Controller make everything easy and fun.

Switching to the unique Atari Sandbox Mode unlocks an open and expandable multimedia PC for freedom and versatility you can't get with any other home game system. The Atari VCS blends the best of consoles and PCs to delight a whole new generation of gamers, fans, and creators who will "Discover What You and Atari Can Do."