How Switch stacks up against other Nintendo hardware
Nintendo's sales history is filled with tremendous numbers, and the Switch is doing well for a 2 year-old system.

Published Thu, Apr 25 2019 1:23 PM CDT
|
Updated Tue, Nov 3 2020 11:48 AM CST
Now that Nintendo's new handheld-console Switch hybrid is now up to 34.74 million units sold worldwide, we put these numbers against the company's mighty forebears to see how the Switch stacks up.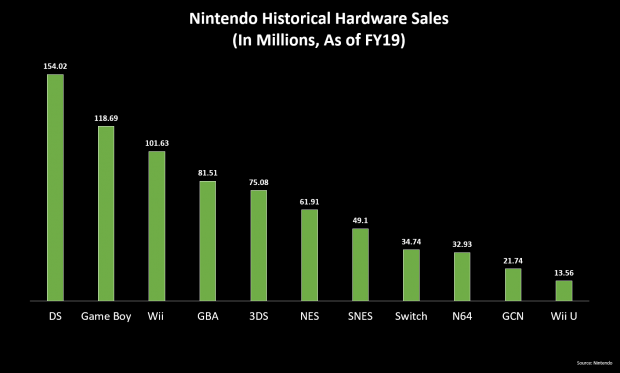 Today Nintendo announced its Fiscal Year 2019 earnings and updated its historical console hardware and software sales. We decided to take a closer look at the Switch's performance and put it into perspective with what other Nintendo systems have achieved throughout the the decades.
In just two years, the Switch has outsold legacy systems like Nintendo 64 and Nintendo GameCube systems--both of which accrued their sales in a six-year lifespan. Right now the Switch has strong potential to topple Nintendo's historical legacy consoles, but handhelds are another story. The Switch has a long way to go before it tops titanic sells like the 3DS (75 million units), the Game Boy Advance (81 million units) and the reigning DS king (154.02 million sales).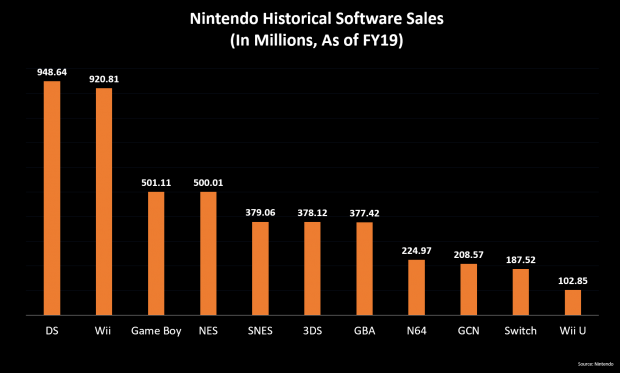 Perhaps more important than hardware is software sales. Nintendo platforms are traditionally explosive powder kegs when it comes to game sales. Each system has huge attach rates--even the Wii U with its paltry 13.5 million sales managed to achieve over 100 million software sold in its lifespan--and some, like the DS line, moved nearly 1 billion games.
The Nintendo Switch is no different. The hybrid system has moved 187.5 million games to date across retail and eShop purchases. Even though the Switch has surpassed certain legacy systems, it'ss still beaten by the N64's and GameCube's software sales. This is to be expected given the four-year discrepancy of sales potential.
Right now the Switch is trailing behind the N64 at about 37 million software sales, and behind the GameCube at about 21 million copies.

As far as attach rate, or the number of games each console owner bought, the Switch is doing well but its massively overshadowed by its forebears when it comes to historical data. Every Switch owner has roughly 5-6 games for the system, compared to the 10 games for GameCube buyers had and the 9 games Wii owners bought into.
Nintendo eventually hopes the Switch sells more than 100 million units and is set up to outlast previous systems with its dual handheld-and-console form factor.
The company issued guidance of 18 million more Switch units shipped in the current fiscal year, which would bring total sales to 52.74 million units by March 31, 2020.
Related Tags