Microsoft's gaming segment has been geared into an Xbox-as-a-service approach to deliver consistent earnings every quarter, and so far the strategy is working. But it's still a drop in the bucket compared to the titan's overall revenues.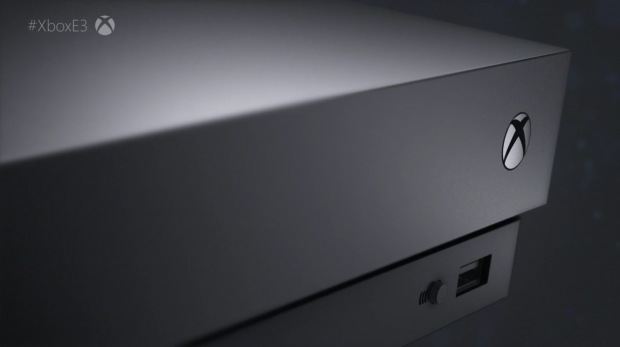 Today Microsoft released its Fiscal Year Q3 2019 earnings, confirming tremendous quarterly revenues of $30.57 billion, up by 14% year-over-year. This growth was driven mostly by an explosive 73% earnings spike in Azure revenues, followed by jumps in cloud services, Dynamics 365 business software, and Surface hardware sales. Xbox, on the other hand, contributed markedly less than these other segments, showing gaming's place in Microsoft's grand scheme of things.
On a whole, Xbox gaming earned $2.36 billion in FY Q3'19 including full game sales, hardware purchases, microtransactions, and subscriptions, up a nice 5% year-over-year. But this is just 7.7% of the company's total earnings for the quarter, and roughly 22% of its More Personal Computing parent segment. Why does this matter? It really underlines the shift to make Xbox into a monetizable, cross-platform service that unifies multiple hardware mediums aimed at generated consistent revenues.
Xbox isn't a big aspect of Microsoft's core business, at least insofar as earnings. It's more of an ancillary investment into an industry that keeps on giving over time. As a result of this investment, Microsoft has become masters of engagement and service management. Xbox LIVE alone is a massively lucrative platform that continually makes cash via subscriptions and huge engagement via online games, and the Xbox Store churns hundreds of millions from full game sales.
But its other breakthrough services like Xbox Game Pass that really exemplify Microsoft's main motivation for gaming.
(Continued below)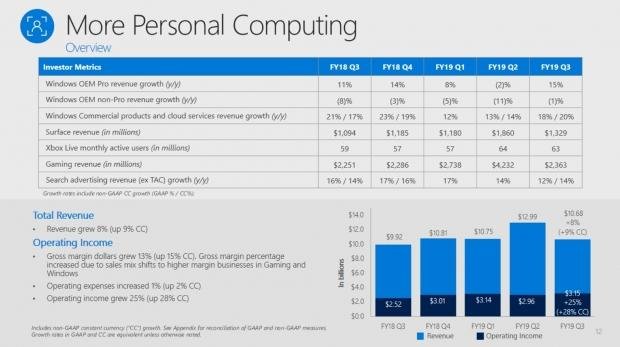 Read Also: Crackdown 3 only exists to sell Game Pass subscriptions
At its core, Game Pass is designed to make money on games without having to actually sell them. It's a $10 a month all-you-can-play buffet of select games that rotate in and out like Netflix, offering dedicated download-based play. A lot of these games have online multiplayer, which of course bleeds into Xbox LIVE, and it's this organic symbiosis of services that's Microsoft's true strengths.
Xbox Game Pass not only makes money from monthly and yearly subscriptions, but it also sparks Xbox LIVE recurring cashflows, sparks full game sales, and even ignites microtransaction spending in online games. So this organic weaving of its services actually blends perfectly into its other business facets as well (full game sales, monetization, etc).
Now Microsoft is adding another service: its new game streaming subscription Project xCloud.
Using the power of its existing online framework, Project xCloud will beam AAA games from cloud servers to a number of devices including phones, laptops, desktops, and even Xbox consoles--all for a monthly fee. Naturally, a lot of these games will be online and will likely require Xbox LIVE Gold (see how this is all snowballing together?).
If that wasn't enough, this lucrative and well-thought service framework will carry across multiple platforms for maximum exposure, revenues, and engagement. Microsoft has put tons of effort into unifying Xbox One consoles and PCs using the Windows 10 OS, and it's been paying off big time. We've seen support for cross-buy, cross-play, and even cross-platform game streaming roll out over the years as Xbox has transitioned into its service-based model.
Hardware will also be a part of this approach, of course, as hardware is a portal for these services to be accessed. Microsoft plans to release a new hardware family of systems, codenamed the next-gen Xbox Scarlett, sometime in 2020. The company may unveil the hardware at this year's E3 2019 showcase.
And of course they've just announced the overpriced $250 Xbox One S All-Digital Edition, a disc-less system designed specifically to keep gamers locked into its carefully curated and monetized online platform.
So ultimately what this means is that Xbox will never be a huge money-maker to the enterprise-first Microsoft, but another way to create value via entertainment content that's consistently monetized. We won't ever see Microsoft stray away from this strategy, and all of its biggest AAA games should be monetized in some way with live service hooks--especially as it forges head into new subscription territory.